New First World War Exhibition at Charnwood Museum
18 October 2018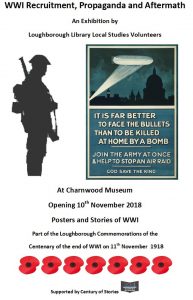 New Ladybird Exhibition in the Library!
3 October 2018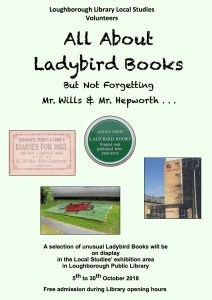 Leicestershire Remembers World War One on 9 November
26 September 2018
The event will be opened by Professor Jackie Labbe from DMU, hosted by Robin Jenkins, Senior Archivist for the Record Office of Leicester, Leicestershire and Rutland,and closed by Colonel Murray Colville, Vice Lord-Lieutenant of Leicestershire. A buffet lunch will be provided. There will be an opportunity to talk to the researchers, alongside stalls and displays about the topics presented. This all-day event is free to attend.
Spaces are limited, so book your ticket now!
Century of Stories Leicestershire Remembers A5 03
Talk on 26 September: From the Chartists to the Coop: John Skevington
5 September 2018
Max Hunt talk LLHS Sept 26 Adv
Loughborough in 50 Buildings – New Book by Lynne Dyer!
16 August 2018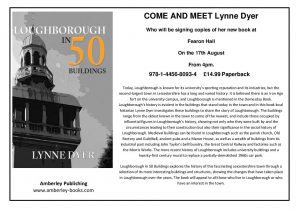 Open Day at Leicestershire Records Office: the little Great War
12 July 2018
For many the Great War was a daily grind of survival, relieved by the little things: a letter from
home or the arrival of the rum ration.
Come to our Open Day and experience the food and drink of the war, listen to live WWI music AND see
the whole Little Great War through local eyes – four years performed in under an hour!
Record Office for Leicestershire, Leicester and Rutland, Long Street, Wigston Magna. LE18 2AH. Ring
0116 2571080 or email recordoffice@leics.gov.uk for more details.
Brush Workers filmed in November 1900
21 June 2018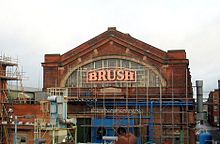 Look at this early film by Mitchell and Kenyon of Brush workers leaving the Falcon Works in November 1900 The Film comes from the British Film Institute.
Exhibition at the University about Citizenship
19 June 2018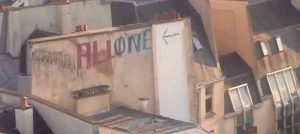 There is an interesting exhibition about Reimagining Citzenship at Loughborough University Martin Hall Building until 14 July.
It collectively curated by the Politicized Practice/Anarchist/Theatre and Performance Research Groups that will form part of Loughborough University Arts Festival.
In government parlance, being a citizen means to be recognised as a 'subject or national'. What is at stake in re-imagining new forms of citizenship and modes of civic participation? How can the notion of citizenship be changed without subjection?
This exhibition centres on the concept of the citizen-artist/artist-citizen to explore the potential for art practices to re-imagine citizenship. It brings together a range of audio-visual and text-based responses with contributions by artists and researchers from across and beyond the University.
Leicestershire County Archives – new film
18 June 2018
Click here for a new film about all the objects and documents in the Leicestershire County Archives, including some fascinating findings about Loughborough.
Leicestershire Green Plaques – Vote by 30 July
18 June 2018
The Leicestershire Green Plaque vote has opened and is open to the public until 30 June. Click here for details.