Children's Fairy tales: an exhibition
3 December 2017
December 3rd 2016 – January 27th 2017
Loughborough Library, Granby Street, Loughborough, Leics, LE11 3DZ.
Admission free.
Available to view during regular Library opening hours.  Further information can be found here.
Created by the Local Studies Volunteers group, the exhibition presents a celebration of Children's Fairy Tales.
Buffalo Bill and Loughborough: an exhibition
5 October 2017
5th October – 28th November 2017
Loughborough Library, Granby Street, Loughborough, Leics, LE11 3DZ.
Admission free.
Available to view during regular Library opening hours.  Further information can be found here.
Created by Tony Jarram and the Local Studies Volunteers group, the exhibition presents information on the visit Buffalo Bill's Wild West Show made to Loughborough.
Luther and the East Midlands: a Conference
30 September 2017
De Montfort University, Leicester
10 am to 5 pm, 30th September 2017
A one-day public history & archaeology conference to mark the 500th anniversary of the beginnings of the Reformation in Europe and Britain.
The conference will examine some of the effects of the Reformation on the East Midlands in the 16th and early 17th centuries.
Dr Stephen Bates (University of Warwick), The Virgin Mary and the Reformation in the East Midlands.
Professor John Beckett & Dr Chris Brooke (University of Nottingham). The Parish Church in the Sixteenth Century: the Southwell and Nottingham Church History Project.
Dr Richard Buckley (ULAS), Excavations at Leicester Abbey.
Dr Sylvia Gill (University of Birmingham), Chantry Priests of the East and West Midlands.
Paula McBride (University of Bristol), Witchcraft in the East Midlands.
Dr Deirdre O'Sullivan (University of Leicester), Friars, Friaries and the Reformation.
Dr Brian Hodgkinson, 'For my Soul': Testamentary donations to the Church in Lincolnshire 1520 – 1540.
Dr Marianne Wilson (TNA), Reformed remembrances? Testamentary legacies from the inhabitants of Lincoln Cathedral close in the sixteenth century.
Venue: Clephan Building,
Oxford Street, Leicester, LE1 5XY
Cost: £25 (£20 concessions)
Further information can be found
here.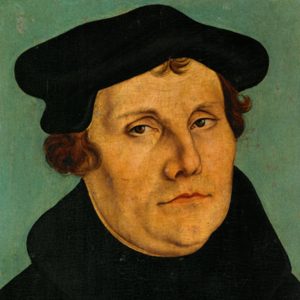 Loughborough's Women at War: an exhibition
3 August 2017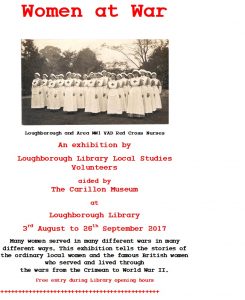 3rd August – 29th September 2017
Loughborough Library, Granby Street, Loughborough, Leics, LE11 3DZ.
Admission free.
Available to view during regular Library opening hours.  Further information can be found here.
Created by Carillon War Memorial Volunteers and the Local Studies Volunteers group, the exhibition presents information on the experiences of Loughborough women during the First World War.
Creative Writing Workshop – Old Rectory, Loughborough
12 July 2017
Wednesday 12th July 2017 – 10 am till 12 pm
Old Rectory Museum, Rectory Place, Loughborough, LE11 1UW
Standing in the Medieval centre of Loughborough on the edge of the modern town centre, the Old Rectory is a rare survival of a stone built 13th century manor house and represents 800 years of the town's heritage.
In this workshop staged by Loughborough Archaeolgical and Historical Society, poet and short fiction writer Deborah Tyler-Bennett will use the setting and contents of the Old Rectory Museum as a stimulus for using history and atmosphere to create either poetry or prose.
All writers, both new and more experienced, are welcome to have a go at writing within a specific site and using objects and places to create memorable narratives.
Cost: £10.00 per person (which includes a donation to ORM funds.)
Contact Alison Mott to reserve your place:
Email alison.s.mott@gmail.com
Phone on 0791 442 1470.
Leicestershire Green Plaques vote!
5 July 2017
The closing date for voting on Leicestershire Green Plaques is 31 July!
The list is:
Tommy Brown (awarded the George Medal during WWII)
The Drill Hall (soldiers marched/rode to WWI from here)
George Fox (founder of the Quaker movement)
Capt Robert Gee (awarded the VC during WWI)
Heathcoat & Boden's Lace Factory (site of the Luddite Attack of 1816)
Anne Ayre Hely (nurse during the Crimean War)
John Theodore Kenney (illustrated Thomas the Tank Engine)
William Pearson (founded the Royal Astronomical Society)
Pestilence Cottage (known also as the 'Plague Houses')
Eric Pinkett (known locally as 'Mr Music')
Lord Macaulay (historian, essayist, poet & politician)
George Spencer (industrialist & benefactor)
The website address to vote is
www.leicestershire.gov.uk/greenplaques
If anyone wants to comment (for or against) any of the nominees please contact this site and we will add it: history@lboro.ac.uk
Guided talk: The History of Loughborough's Parish Church
4 July 2017
A guided talk by Roger Willson,
on behalf of Loughborough Archaeological and Historical Society
7.00 pm – Tuesday 4th July 2017
All Saints with Holy Trinity Church, Steeple Row, Loughborough, Leics, LE11 1UX
This guided history tour will begin with a look at the gravestones in the grounds around the building, then move inside to talk about the church's structure, development and importance to the town throughout history.
Refreshments will be available following the talk.
The event costs £5 and includes a donation to church funds.
Payment will be taken at the event itself.
Booking is essential as places are limited. 
To reserve your place email Alison Mott of the LAHS at alison.s.mott@gmail.com or phone her on 0791 442 1470.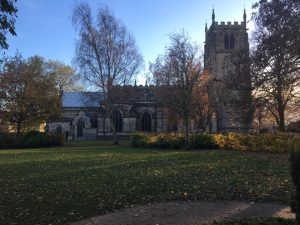 Charnwood Great War Centenary publication
26 June 2017
New!  For the Fallen: The Charnwood Great War Centenary Project
Available from Loughborough Museum
Charnwood Arts, 31 Granby Street, Loughborough
Or All Saints Church parish office: please office@allsaintsloughborough.org.uk or call 01509 217029 to reserve a copy.
Saving the Old Rectory by Design: the story of 36 students and a Grade II listed site
20 June 2017
In August 2016 I was contacted by Loughborough University's Design School who were looking for a local 'issue' for students on the Service Design for Social Innovation Masters course to design solutions for.
I'm a member of Loughborough Archaeological and Historical Society (LAHS) and a volunteer at the Old Rectory Museum in Rectory Place, a medieval structure which is all that's left of the original rectory to Loughborough Parish Church.  Members of the Society campaigned to save these remnants when the Georgian exterior was demolished in the late 1950s, securing listed status for the site and opening a small museum there shortly afterwards.
Set back from the street and partly obscured by surrounding buildings, the LAHS has problems attracting visitors to the museum as well as finding volunteers to staff it during the summer months.
Last Autumn I told this story to a new acquaintance – Rose Deakin of The Crop Club – over a pint in the pub.  An acquaintance who just happened to know Carolina Escobar Tello of Loughborough Design School.
Dr Escobar Tello – a Lecturer in Industrial and Product Design with a specialism in 'design for happiness' – invited me up to campus for a coffee.  Might we be interested in 30 or so postgrad students creating solutions to the Old Rectory's sustainability problems, she asked?  Previous cohorts studying the relatively new module had come up with ideas for increasing footfall to Loughborough's mid-week farmers' markets and for encouraging the University's student population to engage with the heritage of the town.
Our contribution to the project would be to make the museum available to students when they needed it, provide participants for occasional Wednesday-afternoon stakeholder meetings and to help evaluate the solutions the students eventually chose to develop.  In return, students would work in groups of 6 to dig deep into what was going wrong for the ORM and generate cost-effective, workable solutions for turning things around.
I immediately said we'd love to be involved. Luckily, the LAHS committee agreed!
Altogether, a core group of committee members attended 6 workshops with students and members of the public, answering questions about the site and weighing up the viability of the 3 initial ideas each group drafted.  At the end of project presentation at Fearon Hall in May, the 6 groups presented their final designs, complete with the rationale behind them, information they'd gathered from the local community, a mock-up of a potential 'user's journey' of the site, and branding and graphics.  You can see the videos they also made as part of their coursework here.
So, what was in it for us?
I was completely blown away by the effort the students put into the project, from canvassing the opinion of people in the town to extensively researching the potential of each idea.  One group hired a stall on the Saturday market and interviewed shoppers, and another staked out the Old Rectory at different times of the day to see what might be putting people off using it.  Their findings were eye-opening – and shared with infectious good humour!  It was good to have our thoughts about the issues confirmed and looked at with fresh eyes.  Good, too, to learn about problems we hadn't thought of and which might be easy enough to fix now that we have.
The consultation meetings drew in a body of people interested in the Old Rectory who we'd not have known about otherwise and who look set to swell our band of volunteers.  They also connected us with two other heritage buildings in the area – Fearon Hall and the Parish Church – who share history with the Old Rectory, as well as some of its issues.  We've already begun small collaborations with these organisations (including a forthcoming guided talk of the church, see here for details) and are hopeful of more in future.
Best of all, though, we've gained a 'youth' perspective on the Old Rectory – an age group we desperately need to engage for its long-term future – and been introduced to potential solutions completely outside of our experience.  Several of the groups signposted viable ways to make their solutions possible and we intend to move forward with some of those ideas, chasing sources of funding they identified and establishing further links with the University, this time with the computer design department.
As a body of volunteers dedicated to keeping the Old Rectory open and used by the public, we've been injected with a new sense of purpose and the very real hope that it may not have to close as we'd feared.
But even if nothing concrete were to materialise for the ORM (and I'm sure that it will!), at the very least the project brought about a greater understanding between our 'town and gown' communities and between the differing generations who took part in it.
Thirty-six students have been introduced to the history and heritage of the town in which they study and which, as has been documented, very few venture into beyond the supermarkets at its edge.  And our community participants went away with a clearer, more positive understanding of today's young people, their creativity, work ethic, interests and concerns.
More than anything, the project was fun.  Counter to representations in the media, young people today are pretty amazing and it's been a real pleasure to meet and chat with so many of them.  And to see them when they come back to visit us at the museum, as so many of them already have.
Alison Mott is a local tour guide, Treasurer of Loughborough Archaeological and Historical Society and a long-standing volunteer at the Old Rectory Museum, Rectory Place, Loughborough.
See here for information about Loughborough Archaeological and Historical Society and the Old Rectory Museum, here for information on the historic Fearon Hall and here for information on All Saints with Holy Trinity (Loughborough Parish) Church.
Girl Guides 100th Anniversary: an exhibition
1 June 2017
1st June – 28th July 2017 
Loughborough Library, Granby Street, Loughborough, Leics, LE11 3DZ.
Admission free.
Available to view during regular Library opening hours.  Further information can be found here.
Created by our Local Girl Guides.