The Houses and Residents of Burton Walks by John Weitzel
22 January 2019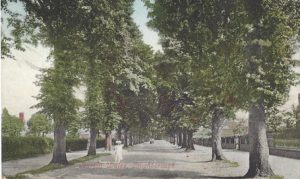 Robert Bakewell: New publication by the Loughborough Library Local Studies Volunteers
21 January 2019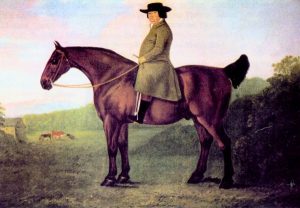 This is a faithful reproduction of a unique bound manuscript dated 1942 presented to the Local Studies Collection at Loughborough Public Library by the author H.W. Cook Esq. Vice-Chairman of Loughborough Public Library Committee.
Robert Bakewell of Dishley. The Pioneer of English Stock-Breeding has been reproduced by kind permission of Loughborough Library, Granby Street, Loughborough, UK, LE11 3DZ
Copies of the softback book are available for a minimum donation of £7 at The Local and Family History Centre at Loughborough Library. Postage will be charged at £3 for first class post and £2 for second class post per copy if required.
Cheques should made out to Loughborough Library Local Studies Volunteers (name in full) and sent with details of address to send the publications to and number of copies required to Sharon Gray, Local and Family History Centre, Loughborough Library. Granby Street, Loughborough, Leicestershire, UK, LE11 3DZ.
SUFFRAGETTES IN LOUGHBOROUGH
17 January 2019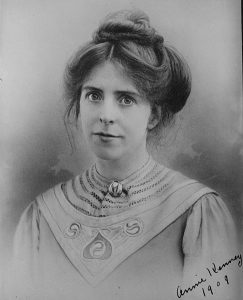 In his new pamphlet Mike Shuker explores the history of the Suffragettes in Loughborough from the 1870s when Mrs Jane Ronniger of the National Society for Women's Suffrage addressed a meeting at the Town Hall. He discusses the 1913 'outrage' when there was an attempt to set fire to the 'Red House' on Burton Walks and many more fascinating details. There are also pictures of Kathleen Corcoran, Annie Kenny and Charlotte (Charlie) Marsh.
Available free, copies are available at the Town Hall and at the Charnwood Museum.
Leicestershire Labour History Society Journal, vol 1 (2)
ISSN 2515-7345
NEW EXHIBITION ON VICTORIAN ARCHITECT WILLIAM RAILTON
15 January 2019
by Tony Jarram and Lynne Dyer
Discover Leicestershire's Railton Buildings
7th January to 28th February 2019William Railton posterKEPsgtj
Free Entry During Library Opening Hours
Third Lord Macaulay Lecture at Rothley Temple on 9 January!
19 December 2018
3rd Macaulay Lecture rev (9 Jan 2019)
Eventbrite link to 3rd Lord Macaulay Lecture 9 January
Abstract of the Lecture
Professor Javed Majeed (KCL) Macaulay and the question of the English language in India
This lecture will address Macaulay's (in)famous 1835 Minute on Education. Rather than seeing this Minute as an expression of power and narrow-mindedness alone, the lecture will consider the distinctive anxieties about colonial rule and the English language, which underlie the Minute, as well as some of its contradictions. It will contextualise the ideas in the Minute in relation to some of Macaulay's other writings, in which he grappled with the meanings of the term 'English', and will also consider it in relation to his larger ideas about nation, family, home, and 'progress'. The lecture will end by exploring some aspects of colonial English in India, and what this says about the British sense of their identity in India as well as their sense of their 'own' language during the age of British global expansion.
New First World War Exhibition at Charnwood Museum
18 October 2018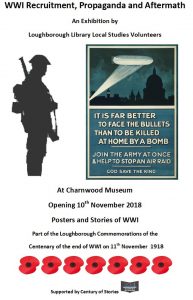 New Ladybird Exhibition in the Library!
3 October 2018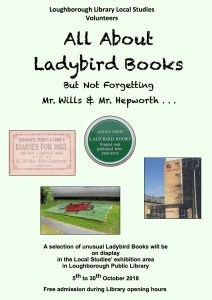 Leicestershire Remembers World War One on 9 November
26 September 2018
The event will be opened by Professor Jackie Labbe from DMU, hosted by Robin Jenkins, Senior Archivist for the Record Office of Leicester, Leicestershire and Rutland,and closed by Colonel Murray Colville, Vice Lord-Lieutenant of Leicestershire. A buffet lunch will be provided. There will be an opportunity to talk to the researchers, alongside stalls and displays about the topics presented. This all-day event is free to attend.
Spaces are limited, so book your ticket now!
Century of Stories Leicestershire Remembers A5 03
Talk on 26 September: From the Chartists to the Coop: John Skevington
5 September 2018
Max Hunt talk LLHS Sept 26 Adv
Loughborough in 50 Buildings – New Book by Lynne Dyer!
16 August 2018