Open Day at Leicestershire Records Office: the little Great War
12 July 2018
For many the Great War was a daily grind of survival, relieved by the little things: a letter from
home or the arrival of the rum ration.
Come to our Open Day and experience the food and drink of the war, listen to live WWI music AND see
the whole Little Great War through local eyes – four years performed in under an hour!
Record Office for Leicestershire, Leicester and Rutland, Long Street, Wigston Magna. LE18 2AH. Ring
0116 2571080 or email recordoffice@leics.gov.uk for more details.
Brush Workers filmed in November 1900
21 June 2018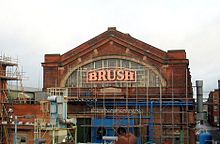 Look at this early film by Mitchell and Kenyon of Brush workers leaving the Falcon Works in November 1900 The Film comes from the British Film Institute.
Exhibition at the University about Citizenship
19 June 2018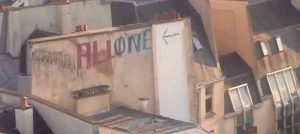 There is an interesting exhibition about Reimagining Citzenship at Loughborough University Martin Hall Building until 14 July.
It collectively curated by the Politicized Practice/Anarchist/Theatre and Performance Research Groups that will form part of Loughborough University Arts Festival.
In government parlance, being a citizen means to be recognised as a 'subject or national'. What is at stake in re-imagining new forms of citizenship and modes of civic participation? How can the notion of citizenship be changed without subjection?
This exhibition centres on the concept of the citizen-artist/artist-citizen to explore the potential for art practices to re-imagine citizenship. It brings together a range of audio-visual and text-based responses with contributions by artists and researchers from across and beyond the University.
Leicestershire County Archives – new film
18 June 2018
Click here for a new film about all the objects and documents in the Leicestershire County Archives, including some fascinating findings about Loughborough.
Leicestershire Green Plaques – Vote by 30 July
18 June 2018
The Leicestershire Green Plaque vote has opened and is open to the public until 30 June. Click here for details.
Photos and Film interviews about the 1972 Mansfield Mill Hosiery Strike
18 June 2018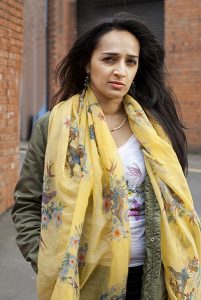 These fascinating films are the work of award-winning photographer Kajal Nisha Patel. They show the experiences of four women who were involved in the 1972 Mansfield Mill strike in Loughborough which was organised by Indian women to end the discrimination they were experiencing at the work.
Click here for a 1974 article on the strike by Bennie Bunsee.
Garendon Park from the Bronze Age to World War Two: a talk by John Maloney of Loughborough Coin and Search Society 
14 June 2018
Loughborough Archaeological & Historical Society presents this talk by John Maloney of  Loughborough Coin and Search Society

Date: Thursday 14th June 2018
Time: 7.30pm
Venue: Knightthorpe Methodist Church, Knightthorpe Road, Loughborough, LE11 5JU.
There is a car park to the rear of the church, accessed via Deane Street.
Free to LAHS Members
£3 for non-members
The Loughborough Library Local Studies Volunteers have published a book, From an Artist's Sketchbook. The drawings of A.T. Warbis a "then-and-now" book compiled by Volunteer Bill Wells.
5 June 2018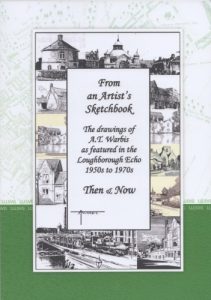 The Loughborough Library Local Studies Volunteers have published a book, From an Artist's Sketchbook. The drawings of A.T. Warbis as featured in the Loughborough Echo 1950s to 1970s, a "then-and-now" book compiled by Volunteer Bill Wells.

The book has been produced following demand during an exhibition in Loughborough Public Library in which the biographical details of Mr. Alfred Thomas Warbis, a selection of his original drawings and objects associated with his life were on display. The resulting book contains 52 of his beautiful line drawings of buildings and scenes in Loughborough and surrounding villages as published in the Loughborough Echo. Each of his drawings for the Echo was accompanied by a descriptive paragraph – the result of careful research – and these texts accompany each drawing with a modern-day photograph of the same building or scene as it is today. Priced at £7.99 the book is available for sale at Local Studies, Loughborough Library, Granby Street. Proceeds from the sale of the book will go towards funding future Local Studies' publications. For enquiries, the Local Studies area is staffed by the Volunteers from 10.00am to 12 noon and 2.00pm to 4.00pm, weekdays, excluding Wednesdays.
Born in London in 1883, "A.T.", as he was known, was making his living as an artist by the age of 27. During the 1920s while based in Yeovil, Somerset, he illustrated a number of books on local history and architecture and became Publicity Manager for Petters Ltd., a manufacturer of diesel engines. In 1939, when Petters became part of the Brush Group, he transferred to Loughborough where he married his second wife Mary and initially set up home in Market Street. After spending the war years in Shepshed, during which A.T. served in the Home Guard, they eventually moved to Barrow-on-Soar, living first in Cotes Road and then at Mill House. A.T. contributed his column From an Artist's Sketchbook to the Loughborough Echo until 1974 when his health forced him to give up. He celebrated his 1,000th sketch for the Echo with a picture of his home, the Mill House.
It has been estimated that during his long career A.T. published over 5,000 black and white sketches – at one time having thirty different drawings in 30 different publications. He died in 1976 at the age of 92 and lies in the cemetery on Cotes Road in Barrow. The Loughborough Library Local Studies Volunteers' book celebrates his legacy – that of a wonderful record of Loughborough and its surrounding villages during the mid-20th century.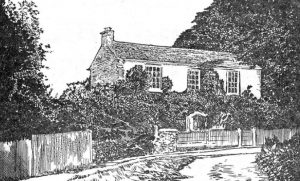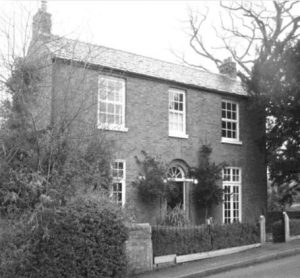 23 JUNE IN LOUGHBOROUGH LIBRARY: CELEBRATE YOUR RIGHT TO VOTE
23 May 2018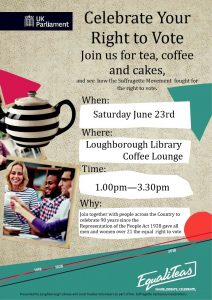 NEW RAIL EXHIBITION AT THE LIBRARY 4 JUNE
23 May 2018