Pottering about … Burleigh Hall
15 January 2021
In 1840, T R Potter published a collection of essays entitled 'Walks Round Loughborough.' Amongst these was a description of Burleigh Hall. Demolished in 1961, it was replaced by the Edward Herbert Building and part of Administration Building I of Loughborough University. A remnant of the former walled vegetable garden survives adjacent to Administration Building II.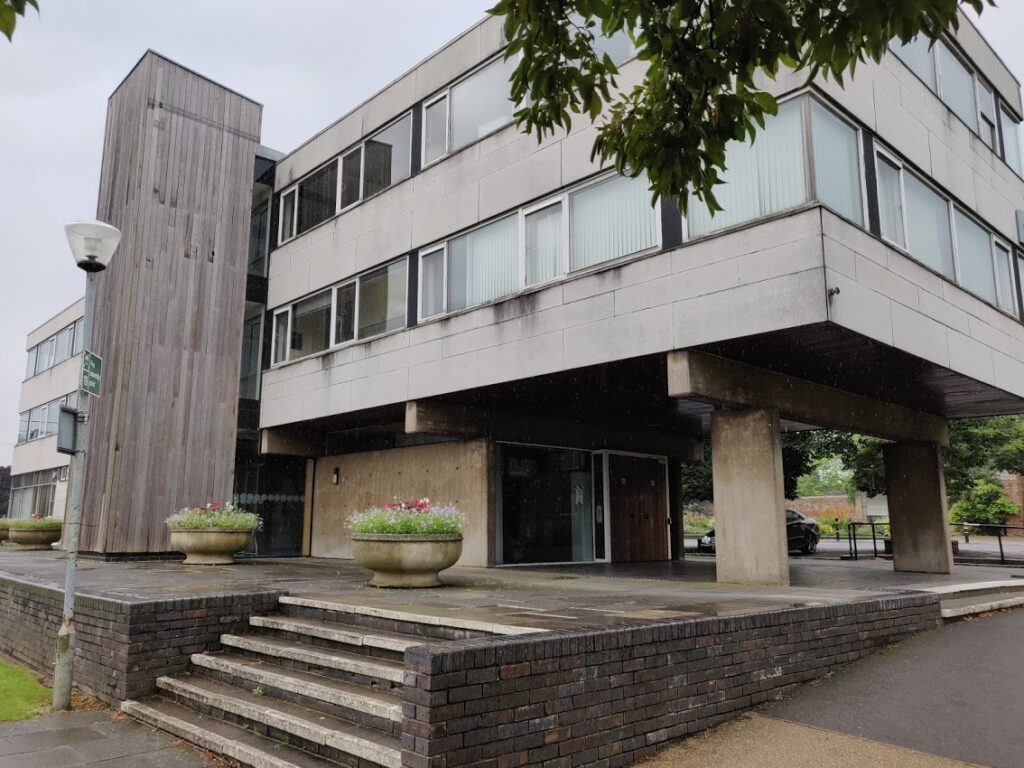 The only nearby reminder of the Hall still standing is the gardener's cottage, almost hidden from view now, as it probably was to T R Potter. The cottage has many interesting features for us but they were not matters to attract the attention of Potter or his readers.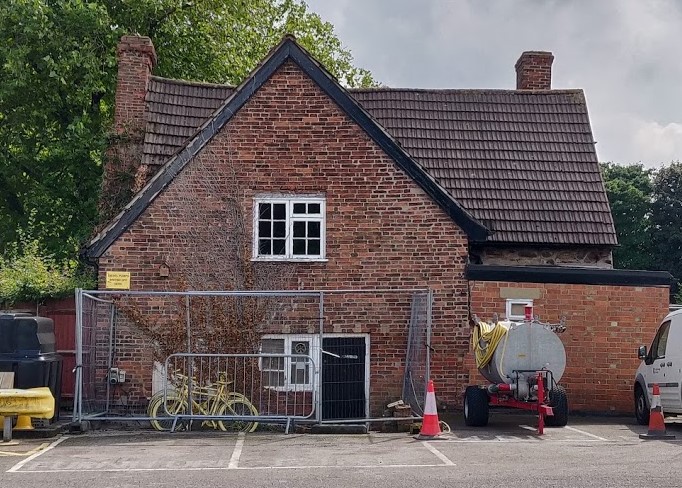 Originally these essays had been written to occupy one column of a local newspaper. When they appeared in book form he added steel engravings to illustrate some items but sadly Burleigh Hall was not selected.
The walk opens with the approach from Loughborough along the Ashby Road.
But to our walk. Taking the Ashby-road, the Catholic Chapel will suggest matter for reflection, to Mr Middleton's Villa and Cottage Ornée will, perhaps agreeably, interrupt it.

Burleigh Hall  

On the left is one of those mansions where the good old times are still fondly cherished. The Hall itself is a pleasing object, and such places are doubly pleasant in the prospect when we know them to be the abode of wisdom and worth.  

One may speculate on the origin of the name. Has the spot ever been honoured with the presence – or does its possessor claim kindred with – one of the greatest men that ever adorned the tide of times – the great Lord Burleigh?  

The Hall affords delightful sunset views – equal to any we have seen.  The domain, pretty as it is, is sadly disfigured by a thing called a lodge, which abuts on the road, and which is, without exception, the most Finchley-Common looking structure ever erected in such a spot.  

Our amusement for the next hour must be poking in the hedgerows, where some rare botanical specimens may be gathered. The pedestrian will, however, do well to watch, from time to time, the ever-varying phases of the Forest, not undelighted will he be with such views as will present themselves.  

When we last took this walk, we had the pleasure of meeting Sir David Wilkie, enjoying con amore scenery, that strongly reminded him of his bonnie native hills.    


Extract from 'Walks Around Loughborough,' by T R Potter.
The Catholic Chapel is Saint Mary's which, in 1840, was only what is at the present of the chancel. He mentions the Grove, a house built for the banker and landowner, William Middleton, in a version of the Italianate style. This house still stands but is much adapted to the rear and internally to meet the needs of students of the 20th century. One of cedars planted in the front garden has remained to remind us of the graceful ideas current in the early 19th century. It would be interesting to know the exact location, and whether any of the 'Cottage Ornée' survives.
Soon after this Potter mentions, however, that a thing disfigures the domain called a lodge. He also identifies it as the most 'Finchley-Common' structure. The lodge stood at the grand entry to Burley Hall. This building survives, hidden by trees and shrubs, and is part of Mumford Hall.
Finchley-Common might have been an allusion to Thackeray's Vanity Fair where a snob refers to an item written by a washerwoman from Finchley as vulgar and unreadable. Potter implied a vulgar and ugly design.
Burleigh Hall in 1840 had the external characteristics of many classical gentry houses. Its location gave it panoramic views of the eastern style side of Charnwood Forest as well as views towards Garendon Park and across Loughborough to the hills of Cotes. In 1840 the property belonged to Miss Tate, a noted benefactor in Loughborough, whose support for the Public Dispensary (forerunner of the Baxter Gate Hospital) was acknowledged on many occasions.
Perhaps a visitor was Sir David Wilkie R.A., who was a great friend of Sir George Beaumont of Coleorton Hall. Beaumont was a major patron of the arts who contributed to the founding of the National Art Gallery. Perhaps Wilkie may be best known for his rather flattering portrait of King George IV entering Holyrood in full highland dress. However, Wilkie was a favourite artist of George III and William IV. He died in 1841.
Potter's speculation about the name of the Hall arose from his wish to find a national hero with local associations. In fact, the name means the fortified place on the hill and was in use before Lord Burleigh became Queen Elizabeth I's advisor.
Most of the Burleigh estate now belongs to the University and it still has some botanical treasures in its grounds.
This article first appeared in the newsletter of Loughborough Archaeological and Historical Society in Spring 2006 under the title 'Pottering about Loughborough.'
In 1881, the Rev W G Dimock Fletcher wrote about the Burleigh estate in his 'Historical Handbook to Loughborough.' Read what he said about it here.
See what Burleigh Park looked like in the early days of the University's ownership here.
Watch a film of the Leicestershire Yeomanry's regimental sports event at Burleigh Park in June 1938 here.
Compiled by Alison Mott
Childhood Memories of Boxing Day
8 January 2021
I remember enjoying Boxing Day as much as Christmas Day. First stop was to see the Quorn hunt in the marketplace. A fine spectacle they were too, resplendent in their scarlet jackets. This meet was well supported by the people of Loughborough.
Then on to the drill hall in Granby Street to meet my grandparents, Jack and Mary Nix of 12 Thomas Street. There was a party laid on there for children – sandwiches, jelly and cake, and noisy games.
Looking back, it must have been horrendous for the adults. The room was big, or it seemed so at the time, with a wooden floor. Dozens of children running up and down, whooping and hollering. I remember it being great fun. Not sure if there was a bar there, if so maybe it helped the adults to cope.
My grandparents, Jack and Mary, were heavily involved with the Royal British Legion, one was secretary, the other treasurer. I believe at one time the hall was used by the TA before it moved to Leicester Road.
Granddad was a military man and believed everyone should serve some time in the armed forces. One year, he was chosen to represent the Loughborough branch of the Royal British Legion at the Royal Albert Hall's Service of Remembrance. I was so proud to see him on television.
Grandad was born in Mapplewell, Yorkshire in 1873. He left school at the age of 13, worked down a coal mine in Barnsley until the age of 19. Then he joined the York and Lancs regiment. Fought in the Boer War, Matabele wars, World War One, and was in the Home Guard during World War Two. He died in 1963.
by Diane Ayres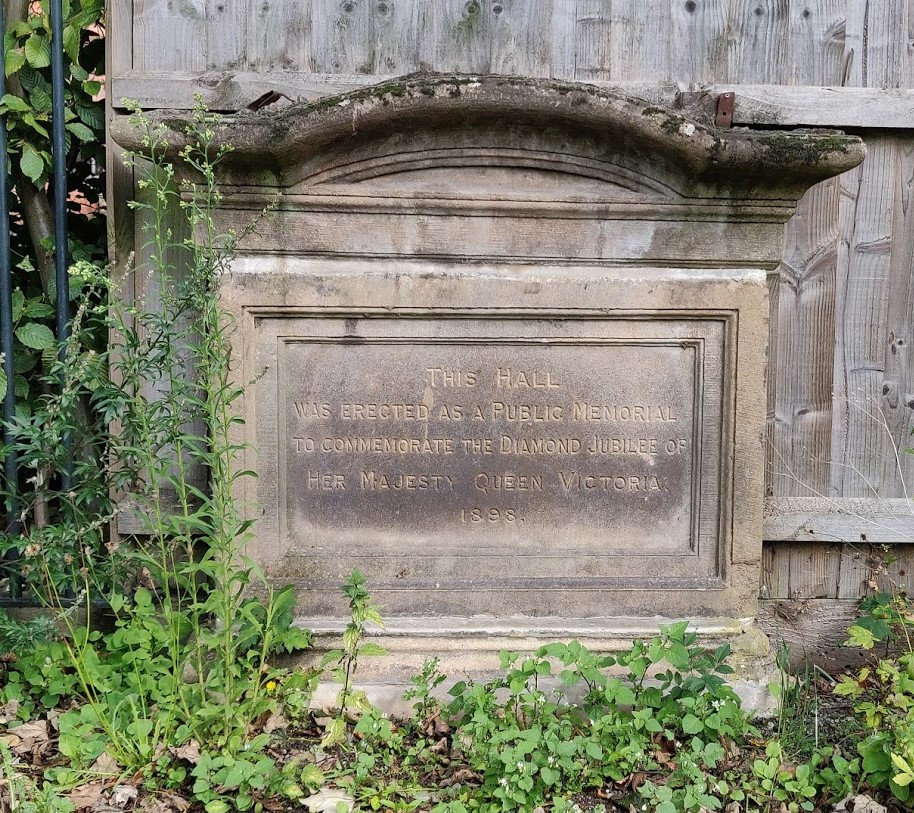 William George Dimock Fletcher, a recorder of history
4 January 2021
William George Dimock Fletcher was born on 4th January 1851 in Handsworth, Staffordshire, the eldest child of John Waltham Fletcher and his wife, Elizabeth. At the time of William's birth John Fletcher was curate of St James' Church, Handsworth, but his career would see him and his growing family moving on to Coventry and then to Leicester, where he became Chaplain of Leicester Gaol.
As a ten-year-old, William boarded at Kings Heath School in Kings Norton, progressing as a teenager to Bromsgrove Grammar School in Worcestershire, where he won prizes for languages and for writing.
By the age of 20 he had moved to Loughborough to take up an apprenticeship with the solicitor John Woolley. William soon decided to follow a different career, however, enrolling at St. Edmund Hall, Oxford at the age of twenty-three to study for the Church. He was ordained as a Deacon in 1878 and as a Priest in 1879.
William began his ecclesiastical career with a short curacy at St. John's Church, Hammersmith, followed by four years at Holy Trinity Church, Oxford. In 1881 he became parish priest at St Michael's in Shrewsbury, where he also acted for a time as chaplain to Shrewsbury Prison. After nineteen years at St Michael's, William moved a short distance away to Oxon Church at Bicton Heath, where he remained until his death.
William Fletcher was a member of Leicestershire Archaeological Society, Shropshire Archaeological Society and Natural History Society, the Society for the Parish Registers of Shropshire, and a Fellow of the Society of Antiquaries.
He was a prolific writer and a much-respected scholar, publishing pamphlets, papers and history books on the 'genealogy and antiquities' of the areas in which he lived, from his early twenties into old age.
Of interest to Loughborough are his collections of the town's stories, published first as articles in the local paper and then collected together into books published by H Wills of the Market Place. His books contain memories and hearsay told to him first hand by people of the town, which would have been lost to modern times if William hadn't recorded them. Whilst not always accurate (people having the habit of misremembering things and getting facts wrong) most of them have been proved to be true.
In old age, certainly, William was a much-respected scholar, sought out by other historians and scholars for information and advice, and is known to have preserved whole collections of historical information through translation and painstaking research. His last printed work, A Short History of Shelton & Oxon, was published in 1929 when he was 78 years old.
He kept up his connections with Loughborough throughout his life, donating collections of press clippings and other archives of relevance to the town's history to the Library in his later years.
William G D Fletcher was married twice; firstly in 1881 to Elizabeth Arrowsmith of Shrewsbury, who died in 1931. William then married Gladys Clarke of Bicton on 19th November 1934. He had no children.
Sadly, William was injured in a traffic accident outside his home in Bicton on the first anniversary of his marriage to Gladys. He was taken to the Royal Salop Infirmary in Shrewsbury where he died from his injuries on 6th December 1935. Known affectionately as 'the oldest clergyman in Shrewsbury', William's funeral at Oxon was conducted with a pomp and ceremony he would surely have appreciated, performed as it was by four clergymen: the Archdeacon of Salop, the Reverend E Moore Darling and the Reverend W E Y Thompson – Rural Dean of Shrewsbury; the graveside rites were performed by William's younger brother, Canon James Fletcher[1].
William's death was reported in newspapers across the country, including The Times. His old friends in Leicestershire Archaeological Society paid particular tribute to him, expressing their gratitude to a man without whom many interesting snippets of the town's history would surely have been lost.
Alison Mott
---
[1] of Stratford in Sarum Cathedral, on the edge of Salisbury
On this day in Loughborough … 1st January 1900
1 January 2021
'In an address given before the Wood Gate Young People's Society, on the 1st January 1900, Mr Henry Godkin said 'my mother[1] was born on Plough Monday in January, with snow and frost outside, and she has told me what fearful condition her mother was in that day.'
'On Plough Monday, boys and men used to dress up in the most outrageous and horrifying costumes and were very rough on people who gave them nothing. They would force themselves into the houses, and you can imagine what a day of terror it must have been with those rowdy, drink-sodden, half-mad men. My mother remembers many such Mondays.'
Plough Monday is the traditional start of the English agricultural year and is generally the first Monday after Epiphany (the twelfth day of Christmas – therefore, the 6th of January.) It signalled a return to work following the Christmas festivities.
Traditions associated with Plough Monday vary from region to region but included hauling a decorated plough from house to house collecting money to support farm workers at a time of year when they were particularly badly-off.
Extract from: 'Loughborough in the XIX Century' by W A Deakin
Additional information sourced from Wikipedia.
Click here to see a recipe for a 'plough Monday pudding' traditionally made in Norfolk.
Compiled by Alison Mott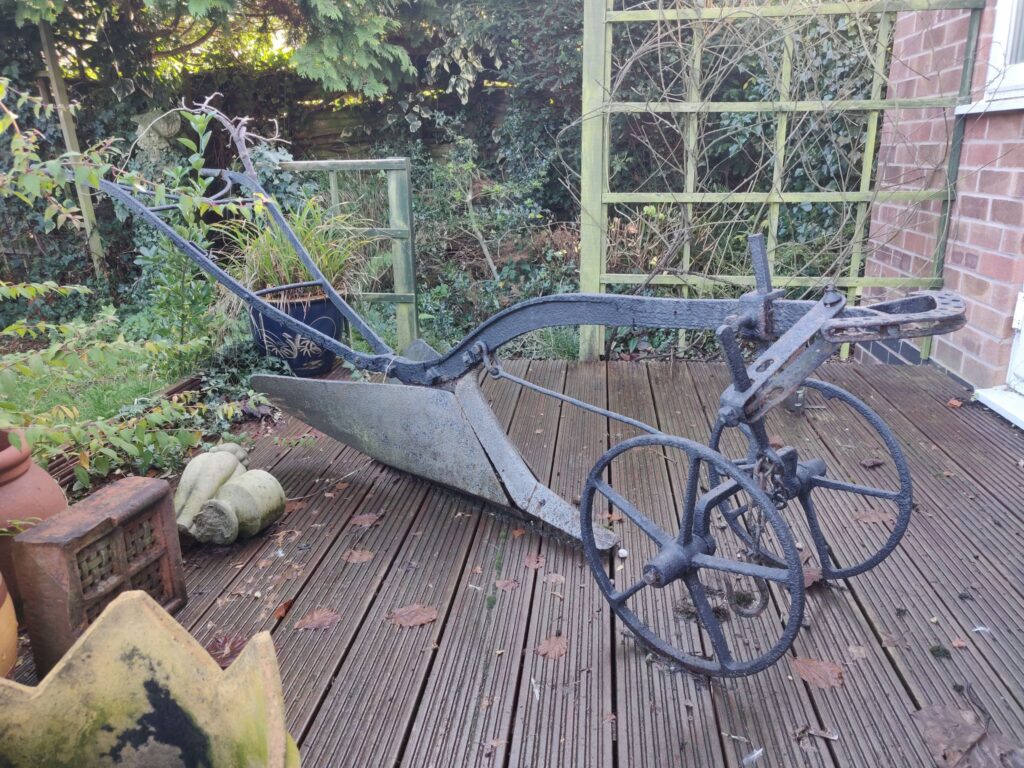 ---
[1] Mrs Godkin would've been born in the early 1800s
A 'Betwixtmas' trip to the cinema, perhaps?
31 December 2020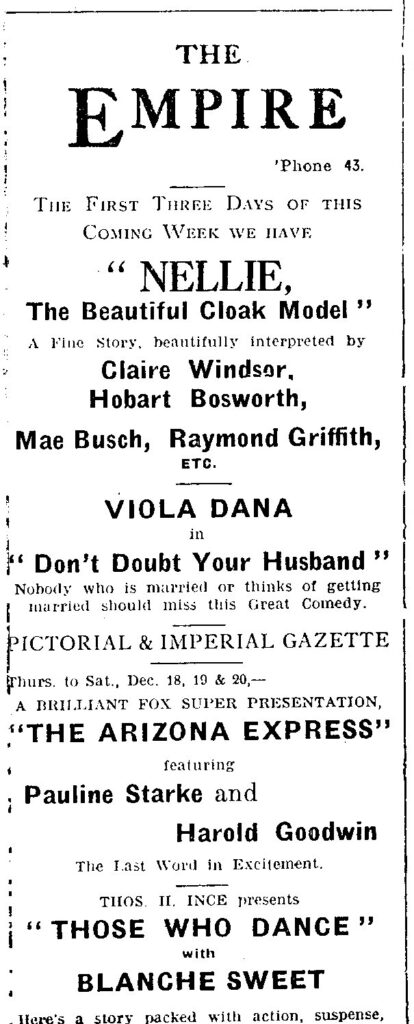 'The cinema has always been a big attraction to the British public and nowhere more so than in Loughborough, where at different times we had one, two, three and four different cinemas operating. My first visit was with my mother in the early twenties. This was the new Victory Cinema, where I saw Charlie Chaplin and Jackie Coogan in The Kid. I shall never forget it.'
'The next stupendous step for the entertainment of the people of Loughborough, was the talkies. The same cinema was the first to be wired for sound. For several weeks all the talkies we would see were shorts consisting of a phone conversation between two persons, someone singing a song or Olivier reciting from Henry V. But the main films were still silent.'
'In about 1929 came the first full-length feature talkies to be shown in Loughborough. This was the Donovan Affair with Jack Holt, and almost all of the action took place in two rooms. Then came those great Hollywood musicals.'
'The Victory was managed by Mr Higgins, who controlled the younger patrons with a rod of iron but was meekness personified when the well-to-do arrived in their best attire for the evening performances.'
'The Empire did not have sound until sometime after the Victory, and I believe the first talkie was Rio Rita with Bebeh Daniels.'
'The three cinemas belonged to a Mr Deeming who lived at One Ash, between Loughborough and Quorn. Every night one could see a member of staff taking the newsreels from one cinema to another, where they were shown at different times.'
'Then came a competitor for the three. J Arthur Rank was to build an Odeon cinema on the site of the old GPO in Baxtergate. I worked on the construction of the Odeon from approximately January to October 1936. The first film to be shown at the Odeon was Mr Deeds Goes to Town, with Gary Cooper. One of the early films shown there was Rosemary, with Nelson Eddy and Jeanette MacDonald, and I went to see that film with my wife May for our first date.'
'To combat the threat of competition from the Odeon, Mr Deeming and his fellow directors carried out huge investments. Firstly, the Empire was completely rebuilt and a brick-by-brick race appeared to be on to see which would open first. In fact, the main orders of both buildings were delivered almost to the day and severe disruption to traffic was caused along Nottingham Road, Baxtergate and the Marketplace. As far as the Victory was concerned, a large amount of money was spent on improvements for the comfort of the patrons, including the revolutionary idea of installing double seats on the back two rows of the balcony. My wife-to-be and I didn't mind seeing a bad film under these new circumstances.'
'Years ago the Empire boasted a beautiful ballroom where many of the large business firms held their annual functions. It was said to be one of the finest dance floors in the country.'
'Another pleasant job we were asked to do occasionally was selling programmes at the Empire cinema celebrity concerts which were held on Sunday afternoons. At the commencement of the concert we were allowed to stay and listen. Some of the famous people who appeared were Cyril Smith the pianist, Anna Ziegler and Webster Booth, Yehudi Menuin and many more who gave their services free for charity.'
'On the ground floor, in the foyer, there was a very popular coffee bar which was a favourite meeting place of students and other young people in the town.'
'When the Empire Cinema was rebuilt there was a ballroom where you would have a meal and a dance. There were three cinemas – the Victory, the Empire and later the Odeon.'
'On Saturday afternoons we went to the pictures – tuppence admission and a penny bag from a market sweet stall. If the cinema was full we will put two in a seat. We saw Hoot Gibson, cowboy films and thriller films as serials. 'Come next week and see what the green Archer does!' Mr Higgins was the manager of the Victory Cinema and you had to behave yourself.'
'On Saturday morning a strange hush came over the street as we all went to the Playhouse Cinema, 'the flea pit,' to see the latest instalment of Pearl White in 'The Perils of Pauline' or Elmo Lincoln in 'Elmo the Mighty' or some other earth-shattering drama. Later the Playhouse became the Palais de Danse and some of us patronised it for another purpose.'
Extracts from 'Loughborough As I Remember It (Memories of the Town before 1945.)' (Various contributors. edited by Jean Carswell, published by Leics Libraries, 1988)
Collated by Alison Mott
It was Christmas Day at the Workhouse …
30 December 2020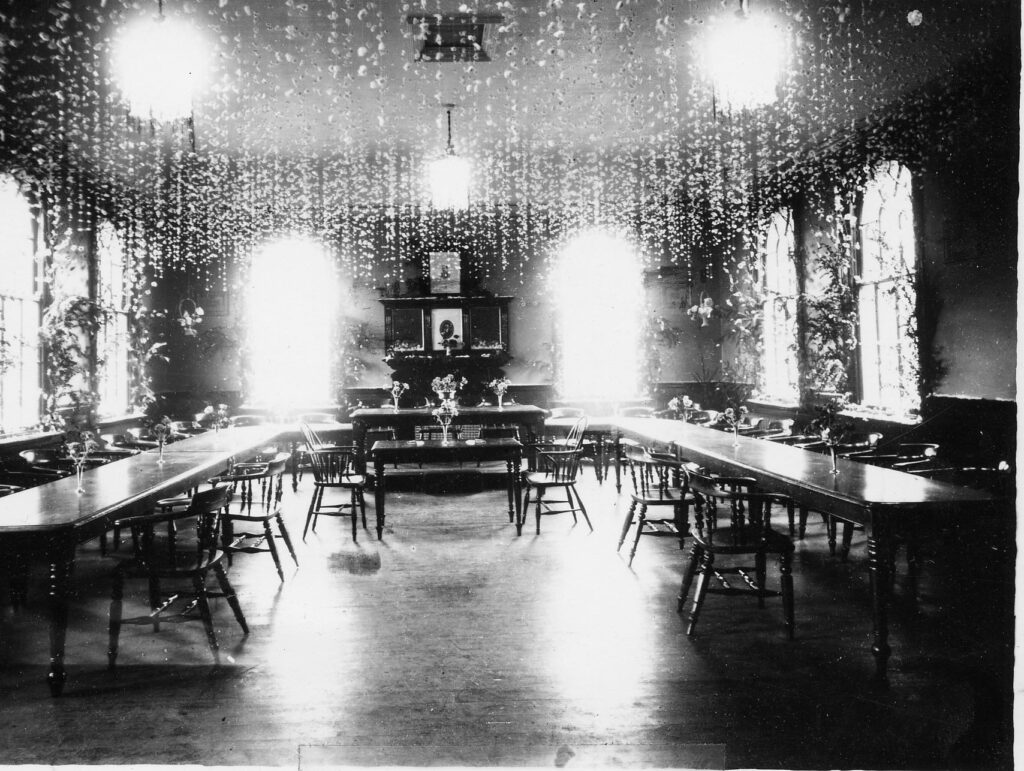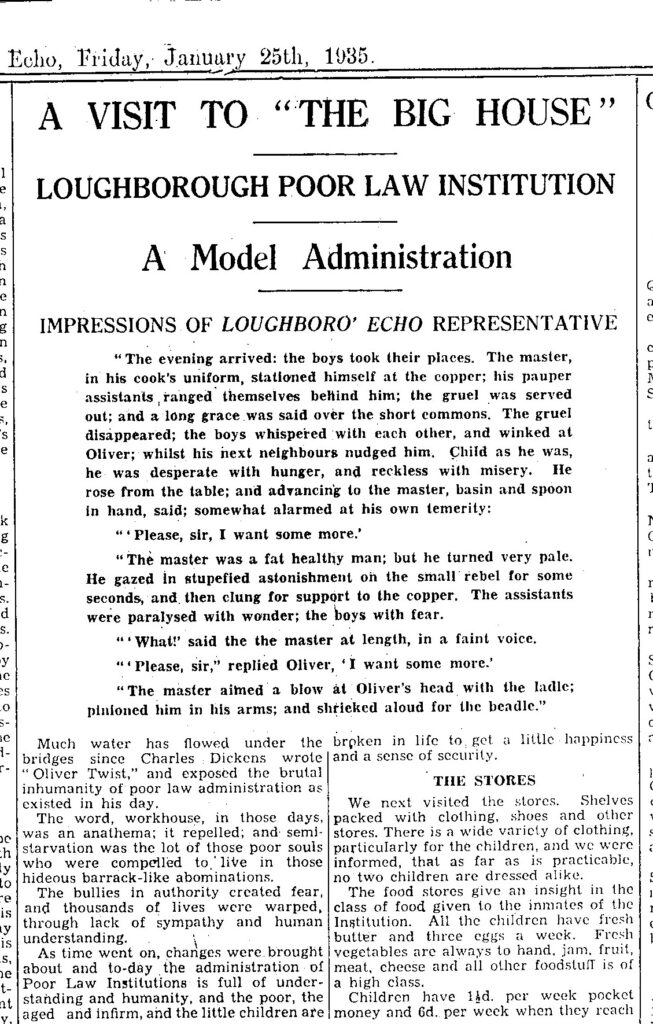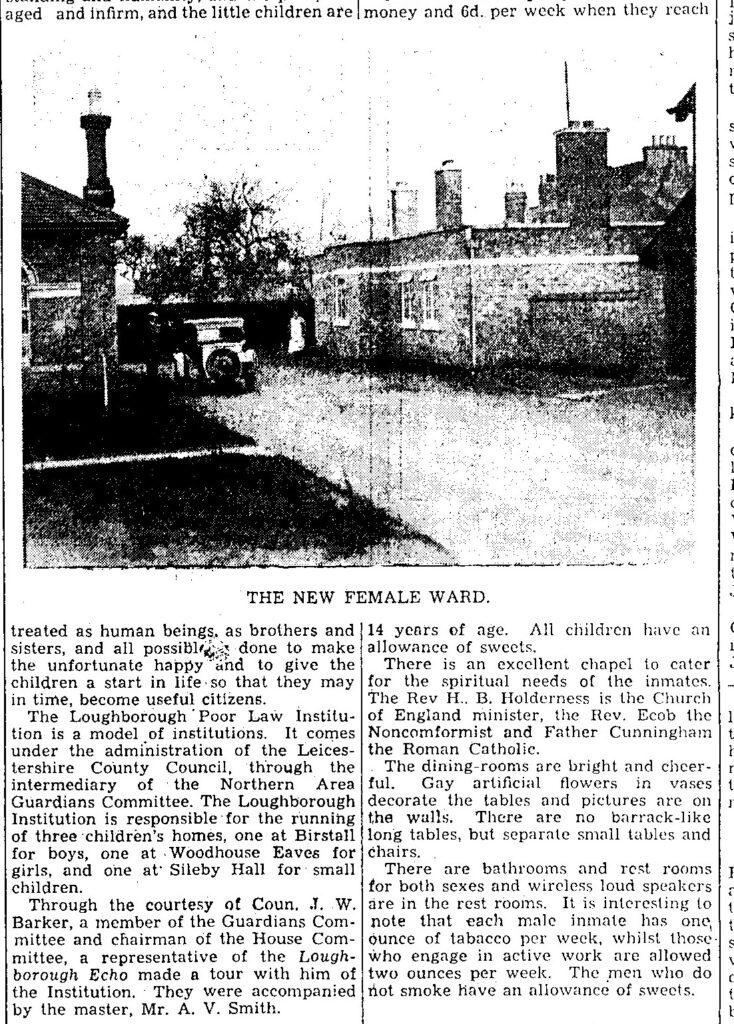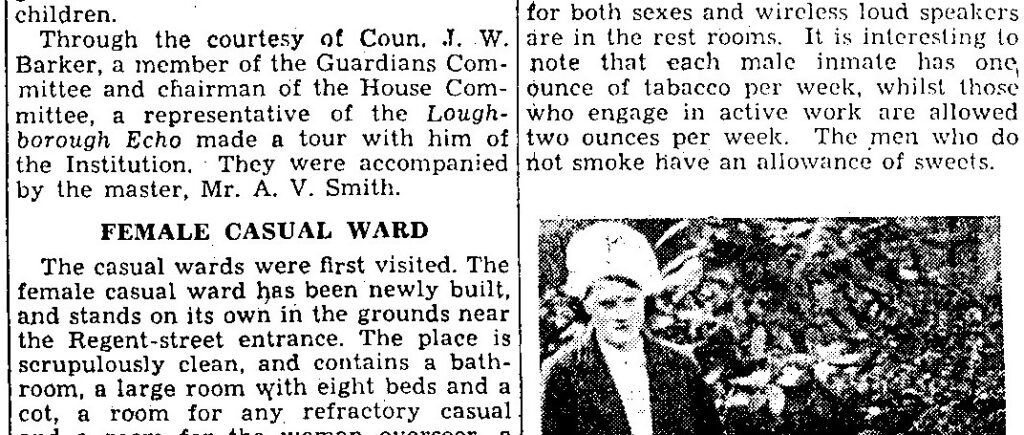 Read the poem 'Christmas Day in the Workhouse' by George R Sims here.
Read articles by Lynne Dyer about Loughborough's workhouses here.
A cure for Christmas podge!
29 December 2020
On a snowy day in early December 2017, I nipped down to the Old Rectory Museum in Rectory Place to meet a friend of mine, Dr Sara Read of Loughborough University.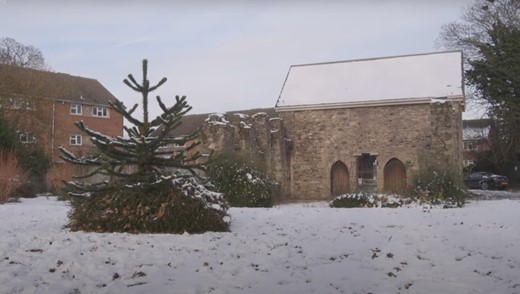 Sara is a specialist in early modern culture, literature, and medicine, (with a particular interest in women's reproductive health) and had asked if she could use the Old Rectory as the backdrop for a short film. In it, Sara would recreate a 17th century recipe for surfeit water – an indigestion remedy for people who've eaten a surfeit – or excessive amount – of food. The film would be released over the Christmas period, a time when over-indulging in rich foods and drink is common.
I'm one of the volunteers with Loughborough Archaeological & Historical Society who run the Old Rectory Museum, and as we're always looking for ways to raise public awareness of the building, Sara's request was cheerfully granted. Hence me meeting her there, to let her in.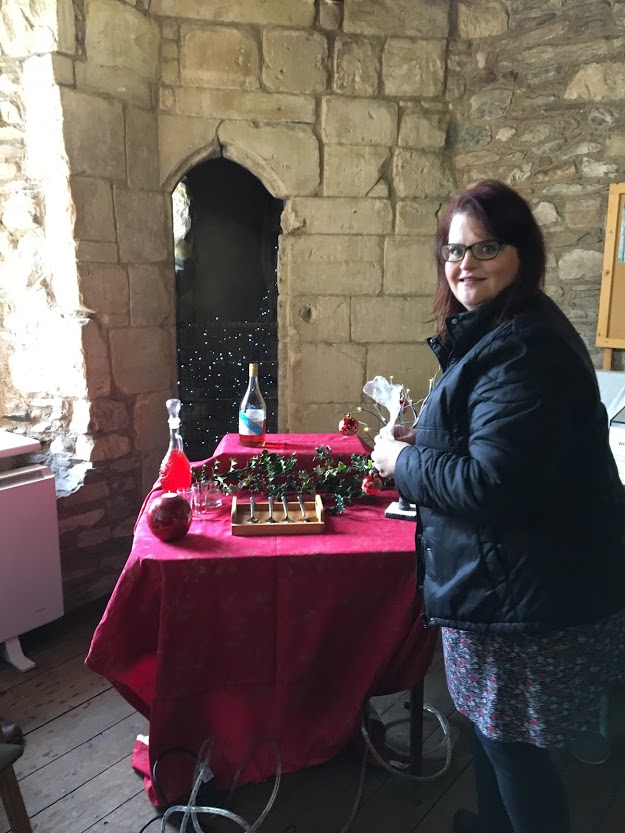 It was a very cold day indeed and at that point, the building's heating system – installed when it was converted into a small museum in the early 1960s – wasn't working. And despite being a short film, it took a couple of goes to record all the elements needed from different angles. I was lucky enough to be wearing a thick coat and gloves (though my poor feet were frozen!), but I watch the film back now in amazement at how well Sara coped with filming in just a thin dress.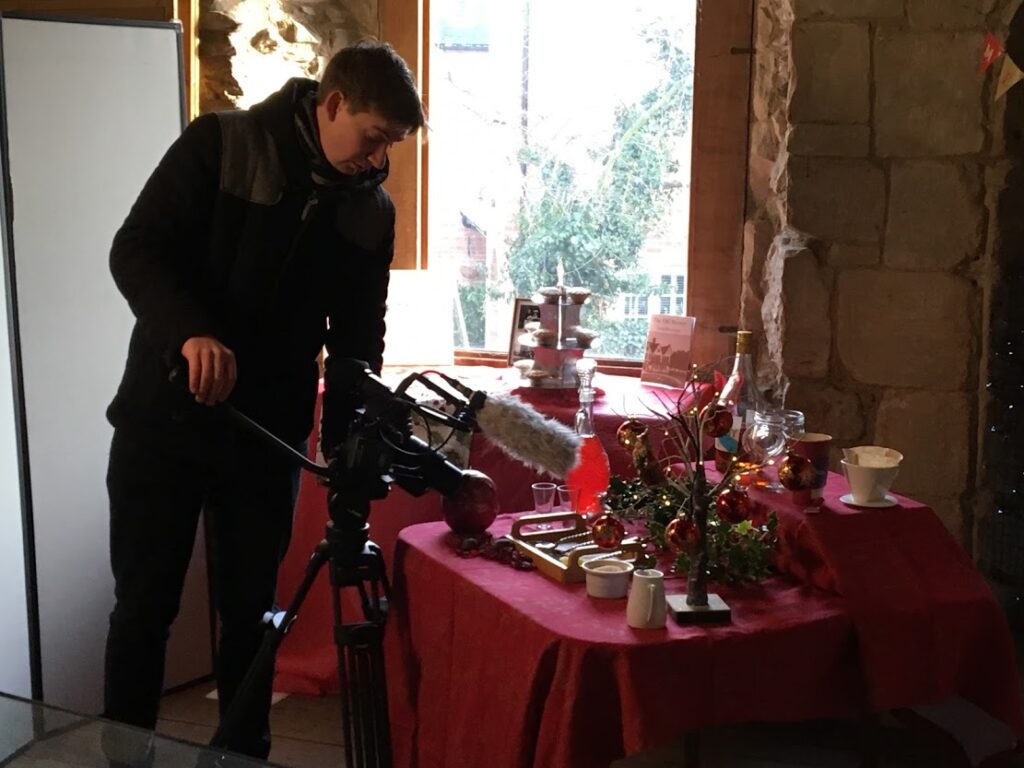 But it was great fun nevertheless. I loved seeing the upstairs solar blinged with Christmas decorations as a make-shift studio and watching Sara create a 'medicine' inhabitants of the Rectory might well have been familiar with back in the day.*
You can watch the film Sara and her team made here and access the recipe itself here.
Dr Read's academic works on early medicine and 17th century women's health can be found here.
Her first novel, 'The Gossip's Choice,' about 17th century midwife Lucie Smith (Wild Pressed Books, 2020) can be found here.
Alison Mott
*The Rectory building is first noted in documentation in 1228 (though it will have been built some years prior to this) and is therefore some 500 years older than the written version of the recipe Dr Read used.
In the deep mid-winter …
28 December 2020
'The winters seemed terrible. I can remember the canal freezing solid and the ice breaker would come down with seven or eight horses pulling it. In 1914 we had terrible snowstorms and the telegraph poles were lying flat on the railway. They were blown down in the blizzard.'
'In the winter after a hard frost, we would go down to the Meadows to watch our elders skating on the ice and having a try ourselves at sliding. Some of the gang became quite adept at it but I always seemed to be facing the wrong way by the time I was halfway down the slide and finished either flat on my face or the other way round.'
Extracts from 'Loughborough As I Remember It (Memories of the Town before 1945.)' (Various contributors. edited by Jean Carswell, published by Leics Libraries, 1988)
Collated by Alison Mott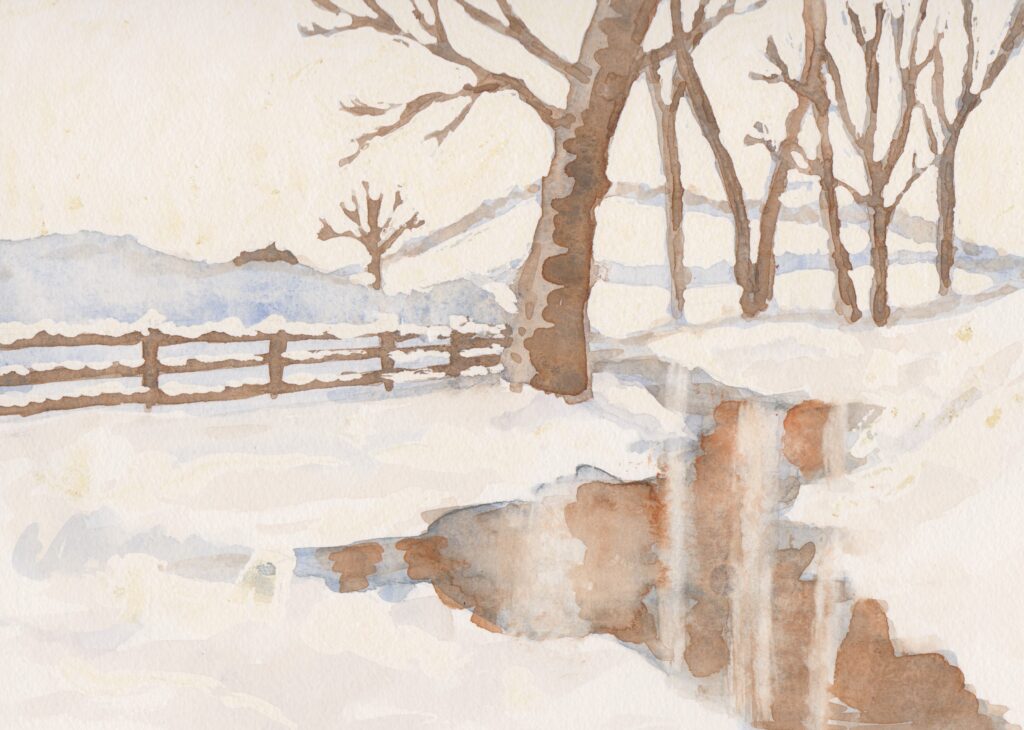 Loughborough Rugby Football Club – a history
27 December 2020
The Nineteenth Century
Loughborough Rugby Football Club (L.R.F.C.) was founded in about 1882 by C.D. Woolley, A. Thompson and William Webster. They played in a field in Moor Lane at the back of The Elms, the mansion and park of Mr. Henry Warner, hosiery manufacturer.
Mr. Woolley was a mainstay of the club until he met with a serious accident during a match and was forced to give up the game. They then had difficulty in fielding a full team of 15 players for away matches and the club closed.
It was revived in 1903 with Arthur Eddowes as its President and Mr. Ashe as Secretary and Captain. It was forced to close once more, to be reformed in its present form in 1929.
1929 and Onwards
Robin Wood and a group of enthusiasts re-formed Loughborough R.F.C. in 1929 with Mr. Wood as Secretary.
The club acquired a ground on Forest Road, thanks to the good offices of Mr. T.P. Towle, hosiery and knitwear manufacturer, who became the club's first President, with Fred Mason as the first Chairman. The early enthusiasm of these players was sustained and they gained a reputation for playing good rugger.
Their ground moved to Park Road in Shelthorpe when the Forest Road site was scheduled for building construction. For one season they played at Browns Lane – the Mecca of soccer in Loughborough – but soon returned to Park Road where they stayed until the outbreak of WWII.
WWII (1939 to 1945) were lean years for the club, but the threads were picked up again in 1946. Unfortunately, the Park Road ground was not available but they managed to secure an agreement to play on Loughborough Cricket Club ground during the winter. With D.P.V. Laing as the first Chairman after WWII, the future plan was always to obtain their own ground and clubhouse.
At long last in 1948 when Loughborough Grammar School adopted the handling code[i], the town's team had its nursery. The school, under the guidance of masters such as Harry Bowen, Bill Redden, Hayden Thomas and W.E. Williams, made rapid strides and was soon a force to be reckoned with in schools' rugger. The school produced a steady stream of players who joined the town club when they left school.
Notable post-WWII names remembered are A.S. North (who became President of Leicestershire R.F.U. in later years), Cliff Hardisty, Owen Brown, J.A. Williams, Nigel Garton, Bill Colston, Roger Holt, Alan Toone, Don Wix, Stan Acons and -more recently – John Charles, Les Moseley, Terry Brewin and Alan Waters – all stalwart servants of the club.
Loughborough Rugby Club achieved their aim to have their own ground and clubhouse when they moved to their first home in Derby Road – complete with a wooden clubhouse which was officially opened in 1962. In 1982 a purpose brick-built clubhouse on the Derby Road playing fields was opened which became home, and still is, to the town teams. Due to the enthusiasm of the College and Junior College teams, the Grammar School teams, the Brush team and the L.R.F.C. town teams, over the years rugby in Loughborough has prospered and become a popular and integral part of Loughborough's sports scene.
References:
Deakin, W. Arthur, The Story of Loughborough 1888-1914, Echo Press Ltd.
---
[i] The 'code' – or format – for Rugby Union. The team sports of rugby union and rugby league have a shared origin and bear many similarities.
Article by Loughborough Library Local Studies Volunteers.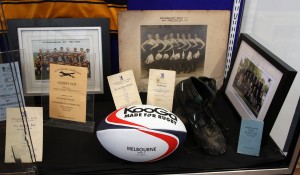 The Fox and the Hounds …
26 December 2020