A Loughborough boy's experience of the Battle of the Somme
1 July 2021
July 1st 1916
Pte. W A Deakin* saw services in the trenches in France and Belgium and took part in the Battle of the Somme on July 1st 1916.  He wrote home to the Echo after the battle, which published his account. Here it is in full.
ONE of the Loughborough boys, Pte. W. A. Deakin, of the Royal Fusiliers, who took part in the great offensive movement on the 1st July, has written home his impressions of the day.
After referring to the few days prior to the attack, when they were held in readiness, he writes:
The guns continued their bombardment relentlessly. From the edge of the wood at the top of the hill, from behind the hedge bordering the road, from the rising ground beyond our vision, shells of every calibre tore through the air with a plaintive screech or a swishing sound like the roar of an express train.
At night-time the whole heavens were lit up by the brilliance of the flashes. From the guns near at hand there leapt a tongue of liquid light, so pure and brilliant that it dazzled the eyes. From further afield the flashes stabbed the sky as though the very hills were in eruption.
The noise and tumult in the little hollow where we lay, thrown back, as it were, by the higher ground and echoing among the woods, was indescribable.
A scene more fittingly representing hell on earth would be difficult to imagine. What must the Germans have suffered in their trenches, where all these shells were bursting? The days of waiting came at last to an end.
It was now Friday, and the rumour had gone round that we were to attack the following morning. Two hours after dark we filed round the outskirts of the village and wound slowly up the rising ground beyond.
Save for an occasional battery in the woods behind us, and the distant rumble of big guns on the left and right, the air seemed strangely _ quiet. The bombardment had slackened.
So unaccustomed had we become to the comparative quiet, that the effect was instantly soothing to the nerves.
The atmosphere was wonderfully clear, and the heavens, studded with innumerable stars, diffused a faint half-light, which threw the ruins of the village into dark relief against the sky.
As we gained the top of the ridge the sharp rat-tat of machine guns broke in upon us.
Away on our left shrapnel was bursting over the enemy's lines, and an occasional high-explosive, over our own, while on the right over towards the river, the French '75's' suddenly opened out with a subdued and mighty rumble.
Star-lights sprang out at intervals over the 'No Man's Land,' wavering unsteadily in the air, and casting their sickly light upon the white chalk outline of the trenches in a huge semi-circle around us.
It was with a feeling of relief that we entered the shelter of a communication trench, from which we finally emerged into the position we were to occupy in the front line.
Now it was that we were told of the postponement of the hour of attack until 7.30. It came as a surprise to us, and we queried the wisdom of such a measure, but, as events proved, the postponement was sound strategy.
It still wanted an hour or so to dawn, and aware that our next opportunity for rest might be far distant, we lay down in the bottom of the trench to get what sleep we could.
We awoke a couple of hours later to the knowledge that the air had become perceptibly colder, and with a firm resolve to do justice to the eggs and bacon (albeit, hard-boiled eggs and cold bacon), which we had brought with us.
By this time the bombardment was becoming more intense than ever all along the line. Shells followed one another through the air in shoals, and the earth shook with the vibration. Our new trench mortars were getting to work and making things hum.
Fritz, too, was very much alive, and the big stuff he threw amongst us often found its mark.
The Skylark's Song
Among all this tumult and chaos it seemed strange that nature should still persist in having a say. For, as it were, in protest against the unearthly pandemonium which prevailed, a skylark suddenly rose from among the thistles and long grass between the lines and burst forth into joyous song as it soared aloft.
The sweetness of its song rose above the fury of the bombardment and took our thoughts from the present to the 'past and from the past to what we hoped for in the future.
Strange what an influence a little incident such as this, so insignificant in itself, can have upon one when the senses are quickened and a crisis is at hand.
As the fateful hour drew nearer the heavy mist which had gathered since daybreak melted slowly away under the warm rays of the sun.
The rum ration had been served out, and with hearts beating somewhat faster than usual we waited for the signal to start.
Our platoon officer, dressed in private's uniform, stood with one foot on the ladder. He was scrutinising the hands of his wrist-watch closely.
'Five more minutes to go,' he said, and the word was passed along.
'Three more minutes to go,' and then the mine went up.
It was our mine, and was the signal to start. It had been laid under the already existing crater of a former mine explosion – a crater held by the enemy and containing a machine gun.
The rumble of the explosion was indeed terrific. Huge masses of earth and chalk were cast like a fountain into the air. The sides of our trench collapsed, and some of us, crouching low for shelter, were partially buried by the fall.
The unfortunate Germans and their machine gun were heard of no more.
'Over you go, my lads,' cried our officer, and, leading the way himself, we followed him up the ladder with rifles 'at the slope.'
It was a moment when there was little time to look around or think twice.
Once on the top we spread out into open formation. Shells were dropping all around, shrapnel was bursting overhead, and a couple of machine guns from the German fourth or fifth line were sweeping the ground in wide circles.
Thirty yards from the German front line we lay down in the grass, for our artillery curtain fire had not lifted.
An inch or so above our heads the bullets were whistling through the grass with an eerie 'swish, swish,' sound, which bade us keep low.
Then the barrage lifted to concentrate on the second line, and we went forward. As we had expected, the front line was unoccupied, and it was at the second line that we encountered our first Germans.
Threw Down Their Arms
They came running out of their dug-outs in a dazed condition, mostly without either arms or equipment, and waving their hands excitedly above their heads. We passed on and over, leaving these men to the care of those who followed us.
At the next lines and at a redoubt which lay in our path, we met with more resistance, but even this broke down as soon as we got to close quarters. The glint of steel as the sun shone on our bayonets wined to take all heart out of them, and they threw down their rifles, such as had them, and with hands in the air, shouted 'Mercy, Kamerad'
Others, half crazy with fear and fright, began to strip, and with ludicrous gestures, held out to us their helmets, caps and even shirts.
If they were lucky they obtained mercy; if they were not, they didn't. It was a case of touch and go, our safety or theirs, for to leave too many behind meant to get sniped in the back.
Such was the method of assault. Not the wild, hot-headed charge of former battles, but a deliberately-timed advance, with a dogged determination to push forward.
Our artillery worked splendidly, and lifted the barrage of curtain fire from trench to trench as we advanced.
The ground we had to cover resembled a ploughed field, rent and torn in an indescribable manner — a perfect honeycomb of shell holes.
The bombardment had done its work. The trenches lay so flattened out as to be almost unrecognisable, and the barbed wire entanglements lay in a broken mass half buried in the ground. Small wonder that the Germans appeared paralysed.
The attack, more-over, had taken them altogether by surprise. They had undoubtedly expected us at dawn, but when dawn came and no attack they had gone about their business, and were probably contemplating breakfast when our attack commenced.
The final bombardment was scarcely more severe than the others had been, and they had retired to their dug-outs till the air should clear again.
Here it was that our bombers took a heavy toll. Following up directly in the rear, the dug-out clearing parties discovered many a German just awakened from sleep and 'whizz-bang,' a bomb flew down the dug-out steps. Some had their boots off, and in one dug-out two men sat side-by-side, with folded arms in an attitude of deep sleep.
Most of the dug-outs had two entrances and were extraordinarily deep and strongly made. They had been a blessing during the bombardment, but proved a death-trap in a surprise attack.
Rifles, equipment and ammunition lay about in great profusion. There were stores of brown rye bread and a quantity of fatty foods, chocolate and cigars, but no meat.
Each valise pack contained a complete change of clean under-clothes, socks, candles and such-like things, and there appeared to be no lack of serviceable clothing. And then – helmets! Rows of them; all nicely polished, with the eagle still crying out defiance! These, sooner or later, found each a new owner.
The Cat-o'-Nine-Tails
In the officers' dug-outs we discovered several 'cat-o-nine-tail' lashes made of strong leather thongs, and in one place was found evidence of the way in which they were used. This was on the bottom step of an officer's dug-out, where lay a man — probably the officer's servant – killed by a bomb wound in the head. His shirt had been partially ripped from his back, and underneath were plainly visible the marks where the lash had cut and torn the skin.
Another tale is told of a machine-gunner, found chained, to his post, but I cannot verify this. Sufficient is it that the prisoners gave no good account of their officers, and the impression gained is that the men obey when officers are present, but get out of hand as soon as their backs are turned.
All that night we 'stood to' in our last captured – and seventh – line of trench, hourly expecting the counter-attack which never came.
Fritz, however, thought better of it, and no doubt -spent his time in 'strafing' the British and manufacturing more hate.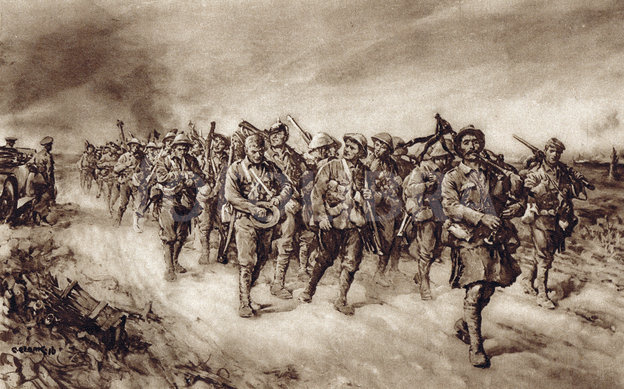 Article submitted by Loughborough Library Local Studies Volunteers.
*W Arthur Deakin was the son of Joseph Deakin, the founder of The Loughborough Echo. Arthur survived WW1, returning to Loughborough and taking over as Managing Director of the company following Joseph's death in 1929.
On this day in Loughborough … 1996
28 June 2021
On 28th June 1996, Her Majesty Queen Elizabeth II visited Loughborough to open the new English and Drama building at Loughborough Grammar School.
At the request of Her Majesty, an anthem specially-written for the school's quincentenary in 1995 by Sir Andrew Carter – was played for the Queen in the drama studio of the building, which was named 'The Queen's Building' in her honour.
See a post about the visit here and here.
Memories of Charles Matthews, collector of local history
14 June 2021
Remember Loughborough Facebook Group member Dusty Miller knew Charles Matthews, who was a neighbour and friend of his father's. Here, Dusty shares his memories of Charles and his passion for saving old photographs.
Charles was a close neighbour of ours, he lived on New Ashby Road, we lived behind him on Blackbrook Road. My father – Peter Miller – was also into photography, but his main expertise was in processing film and printing from negatives. Almost all of the prints in Charles's collection were processed by my father.
Charles spent many hours walking around Loughborough knocking on doors asking for old photographs or negatives. Many were the old glass negatives which normal processors wouldn't print. Some were cracked and faded but father managed to get images from them. Charles became quite friendly with Mrs De Lisle* so sourced several negatives from her.
One example of Charles is, there is a photograph taken on Nottingham Road of a Victorian lady with a baby in a pram. Shortly after Father had printed this for Charles a film arrived for developing and printing. Father did the honours and amongst the photographs was a picture of a modern young mother standing with a baby in a pram on the same spot as the Victorian lady. Charles went to look at the area of the original picture and asked a passing mother if he could take her photograph with the pram. After showing her the original she was only too happy to help.
Charles worked as a clerk for the railway based in a building on the line side between Loughborough Station and Meadow Lane. He later moved from New Ashby Road to Shepshed station house; we visited several times before their next move to Market Harborough.
My mother told me that Charles bought a large box of glass negatives when Hastings House closed for next to nothing. This must have been in the 60's before it became a community hospital. No one wanted the negatives; had Charles not bought them they would have been dumped in a skip. It is so easy for important things like these to end up in landfill when their true historic value is missed.
It is great to finally see Charles contribution to the history of Loughborough archive recognised. Most of the books of photographs of old Loughborough came from his collection.
Dusty Miller,
12 June 2021
The original posts from Dusty can be found on the Remember Loughborough Facebook page here.
*of Garendon Hall
Charles Matthews' legacy to local history research
11 June 2021
The Founders and Notable Contributors to the Loughborough Library
Local History Collection
Mr. Charles Matthews, a local historian and amateur photographer, salvaged a number of glass plate negatives of Victorian scenes of Loughborough that otherwise would have been lost. These are still in existence and held in the Loughborough Library archives. Alongside many items from his own collection of photographs, the glass slides were exhibited in Loughborough Library in 1963. The exhibition was a great success. It was featured on television and thousands of people came to see it.
Mr. Matthews' whole collection was eventually passed on to Loughborough Library and became the basis of what is now known as the Local Studies Collection, held in the Local and Family History Centre at Loughborough Library. The photographs were integrated into the 20th Century Photograph Collection and the books and papers are now available to all local historians and researchers.
There have been a number of other contributions to the Collection over the years, many by notable local historians such as Ian Keil, Brian Williams, Don Wix and George Green to name but a few. Other collections of information in many forms, have been donated by one-time employees of local companies such as Ladybird Books and Brush. Loughborough Library Local Studies Volunteers currently work with the Collection, constantly adding information, acquisitions and donations, in order to protect and enhance it for future generations.
If you have any documents, books, notes etc. that you feel would be a useful addition to this collection of Charnwood local history, please contact the Volunteers, in the first instance by emailing lllsv@gmx.co.uk. We shall reply as soon as possible given the limitations of the current Covid-19 situation.
Article submitted by Loughborough Library Local Studies Voilunteers
Read a personal memory of Charles Matthews here.
Find an article showing photographs Mr Matthews took of the Loughborough Midland station in the 1950s here (published in The Loughborough Echo in October 2017).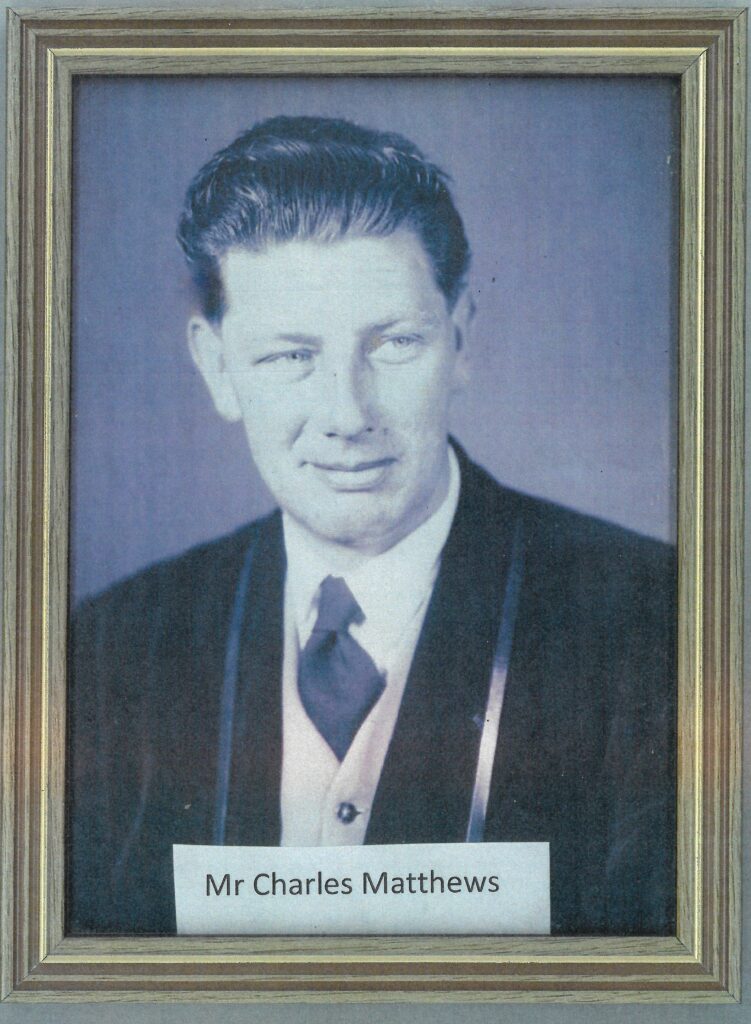 Forest Line Exhibition at Loughborough Library
17 May 2021
Loughborough Library in Granby Street are celebrating the publication of a new edition of local historian Brian William's book 'The Forest Line' with an exhibition about the former Charnwood Forest Railway in the local studies area.
The exhibition sees a welcome return to visitors to the Library, with the Local Studies Volunteers who put it together keen for as many people as possible to see it. It will be up until 27th June and visits can be pre-booked by ringing 0116 305 2420.
Copies of Brian's book are available to buy at the exhibition, with funds from the sales supporting the research carried out by the local studies group.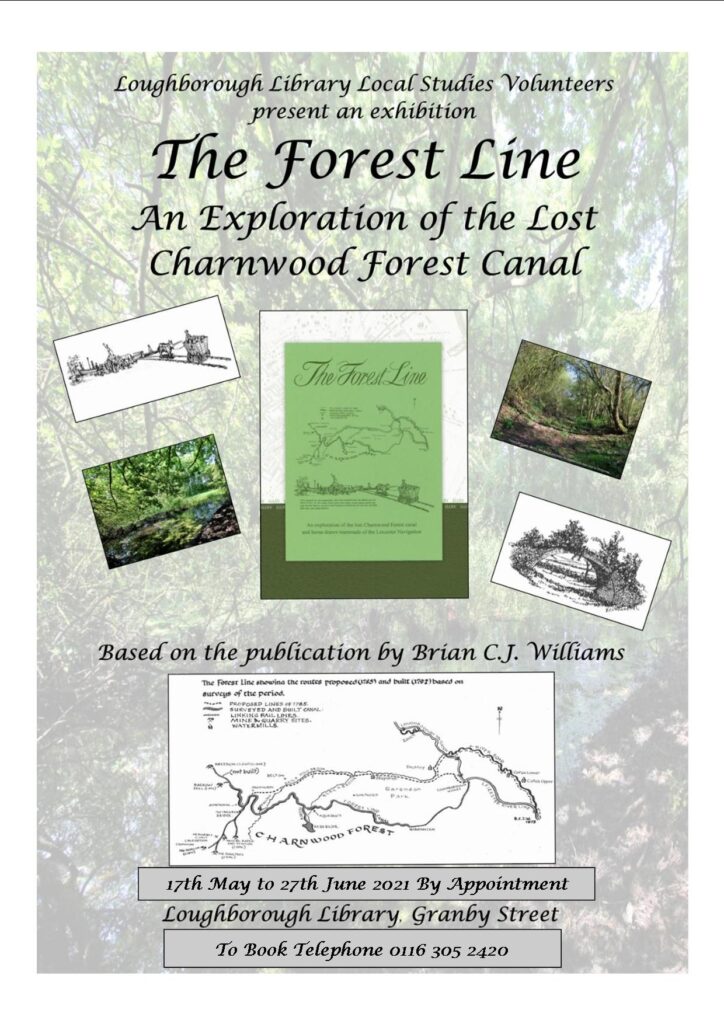 Ralph Lemyngton's Will
4 May 2021
The Will of Ralph Lemyngton a Rich Wool Merchant residing in Loughborough
Merchant of the Staple of Calais, dwelling in Loughborough
Abstract of Will dated 4th May 1521. English. Probate 1521
Soul to almighty God, our blessed Lady St Mary and all the holy company of heaven beseeching them all to pray for him that he may come to the everlasting bliss in heaven Amen
Burial: in the parish church of L
Mortuary: best beast
To high altar for tithes forgotten: 20s
For repair of the steeple: £40
For his burial and month's mind: £100
For an obit for 60 years @ 10s p.a.: £30
For the purchase of land in mortmain producing 20 marks p.a. to maintain two priests: £320
To the Jesus Gild and Lady Gild: 40s each
To St Catherine's Gild: 20s
To the Corpus Christi Gild and King's Gild: 6s 8d each
To the Weavers' Gild, [Carpenters'] Gild, Tailors' Gild, Smiths' Gild, and Cordwainers' Gild: 3s 4d each
To his godchildren in L: £10
To his cousin, Thomas Marshall: a black gown and £5
To his godson, Ralph Marshall: 40s
To his cousin, Isabel Marshall: a black gown
To his cousin, Catherine Burton: 40s
To his maids in addition to their wages: 20s
To make his two apprentices free of the Staple: £7
To his servant, Thomas Chircheman: £5
To Garendon Abbey: £5
To Ulverscroft and Langley Priories: £4 each
To Gracedieu Priory: 53s 4d
To Ralph and Peter Shilton in addition to his father's bequest: £80 each
To Alice Shilton: his house after his wife's death and £120 due to her
To his wife: the house above for her life and 40 marks p.a.; 3 white goblets with a cover parcel gilt, 3 gilt goblets with a cover, 2 salts parcel gilt with a cover, a dozen silver spoons, 2 mazers with a 'Nutte' gilt with a cover
Trust: 800 marks to be deposited in a chest in the treasurer's house in the parish church of L, with three locks (one key for the abbot of Garendon, one the priest, and one his exec)
To his cousin, Ralph Rollett: £50
To Ralph's son, Ralph: £20
To his son, Affabell: 10 marks
To his daus (Elizabeth, Margaret, Margery, Jane and Ursula): 10 marks each
To his kinsman, John Rollet: £10
To his cousin, James Redmayne, and the wife of James, Alice: £5 and a black gown each
To his goddaughter, Anne Redmayne: £5
To Elizabeth Redmayne: £5
To his godson, Leonard Redmayne: £5
To Richard Richardes: 20s and a black gown
To Sir Thomas Crosbie: 40s and a black gown; 10 marks p.a. to celebrate for his soul, but after Sir Thomas 8 marks to the successor
To William Baker, haberdasher of London: 40s and a black gown
To his cousin, Alice, wife of William Baker: a black gown
To Richard Baker: 40s
To Alice Shilton: a black gown
He forgives Thomas Baker a debt of £10
He forgives Edmund Baker the debt that the testator paid for Edmund when he was imprisoned at Coventry
To Richard Barnarde: a black gown
Exec: his cousin, Ralph Rollet
Supervisor: Sir Thomas Crosbie, clerk
He refers to an earlier testament which specified the arrangements for his funeral
Residuary legatee: Ralph Rollet the elder
Sir Thomas Crosbie to be given £20 by the exec to distribute for his soul
Probate at Lambeth 24 July 1521
Taken from a collection of abstracts of wills from the 16th Century, part of the Loughborough Library Local Studies Collection held at Loughborough Library.
On this day in … 1873
17 April 2021
17th April 1873
Mr John Wyatts begs most respectfully to inform the inhabitants of Loughborough and it's vicinity that he has recently purchased two SHILLIBEERS (horse drawn hearses with room for mourners). NB coffins supplied on reasonable terms.
Snippets from the Loughborough Advertiser, Loughborough Herald and Loughborough Monitor.
Collated by Loughborough Library Local Studies Volunteers
Source: Matthew's Local Newspaper Extracts Vol. 1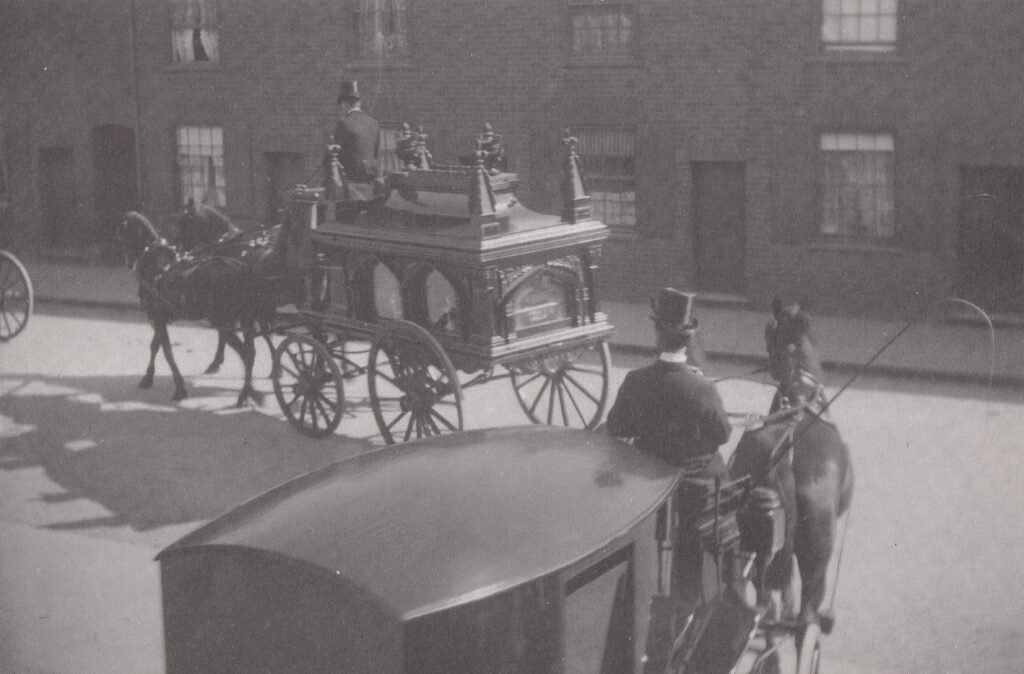 Good Friday in times past
2 April 2021
'I was born and bred in the town and very well remember on Good Fridays around 6:30 am, the baker's boy coming down our street – Albert Promenade – with a tray-load of hot cross buns on his head, waking the residents with his loud cry of his wares and price of a few coppers.'
'My father, like others, would open their bedroom windows and ask for a dozen buns to be left on the doorstep, at the same time throwing the correct money down to pay.'
From 'Loughborough As I Remember It,' Leicestershire Libraries, pub 1989.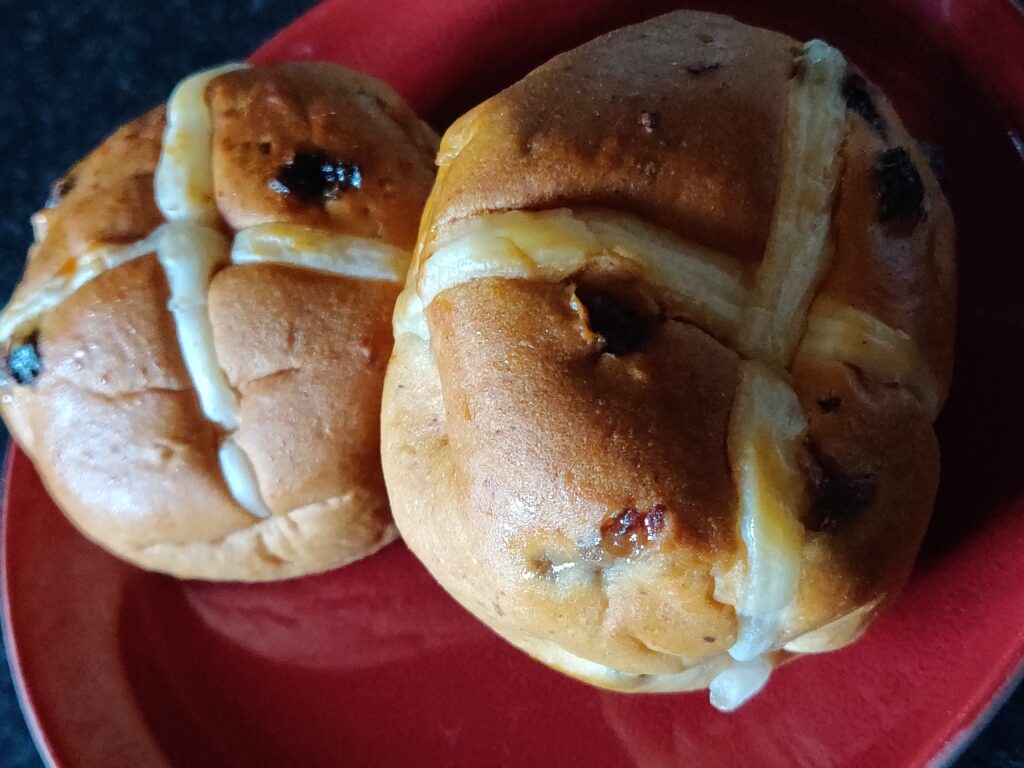 Burleigh Brook Park
26 March 2021
30th March 1899
'Councillor Geo. Adcock having laid out a park near Burleigh Brook, Ashby Road, at great expense to himself, announces a preliminary opening on 3rd April 1899.  The park is designed principally for the rational enjoyment and recreation of the people.  A good sized lake has been formed, and the park is about 4 acres in extent, and is pleasantly situated on the declivity and in the valley of Burleigh.'
'George Adcock begs to inform the public that he intends to have a Preliminary Opening of the above park on Easter Saturday, and Monday weather permitting.'
'Various amusements will be provided at a small charge to pay for the attendant. Day trips around the island every five minutes in the Steamer.  Tea and other refreshments at moderate prices.'
'For the comfort of visitors a very large number of seats are provided round the Park and Lake.' 
'On Saturday 1st April, the Borough Band will play a concert in the afternoon and will play for dancing. Park open at 2. Admission Adults 2d, Children under 12 years 1d. 
On Easter Monday the Volunteer Band is engaged and will proceed to the Park at 2 o'clock, weather permitting.  Admission three-pence, children under 12 years 1d.
Apparently, Burleigh Brook Park was known locally as Tickle Belly Park, which displeased Mr Adcock who preferred a more upmarket view of his investment. 
Further information about the park and George Adcock can be found by Lynne Dyer here and Graham Hulme on Remember Loughborough here.  
Snippets of history from the Loughborough Advertiser, Loughborough Herald and Loughborough Monitor, collated by Loughborough Library Local Studies Volunteers. Source: Matthew's Local Newspaper Extracts Vol. 4.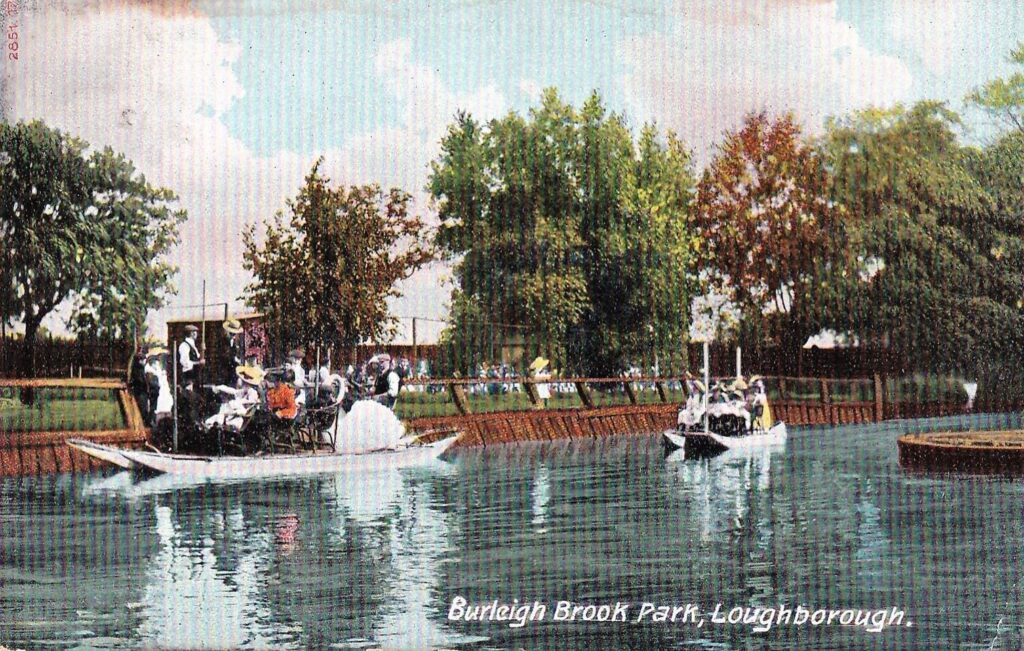 The Battle for Cotes Bridge
12 March 2021
In 1643 the English Civil War had gone against the parliamentarians, who were commanded in Derbyshire, Nottinghamshire and Leicestershire by Lord Grey of Groby. The royalists were under the command of Lieutenant General Henry Hastings, Lord Loughborough.
The following year parliament besieged Newark (February to March) and the royalist garrison there needed to be relieved. Prince Rupert marched from Chester and arrived on the road to Ashby de la Zouch on 16th March 1644, where a Flying Army of 3000 men had been gathered by Lord Loughborough. He had also fortified Burleigh House near Loughborough as it had a commanding view of the area.
On March 15th a small royalist force moved towards parliamentarian-Leicester in order to frighten the garrison there into staying put. They then marched off to Mountsorrel and rested in the local Inns. A parliamentarian force from the army besieging Newark came across the royalists at Mountsorrel and charged across the River Soar into the town. After some initial success, the parliamentarians withdrew to the east bank of the river and left the royalists on the opposite bank.
Both parties began to move north towards Barrow upon Soar and on towards Cotes Bridge, the royalists needing to cross it to reach Newark and the parliamentarians wanting to seize the bridge to impede the royalists' advance.
The bridge was a mile away from Loughborough town centre and about half a mile in length. Cotes Hall, home of Sir Henry Skipworth, overlooked the River Soar, whose banks were wet and marshy.
By March 17th the parliamentarian army of 2500 men had arrived at Cotes and waited at the eastern end of the village. Lord Loughborough – with approximately 2000 royalist soldiers with him – had earthworks constructed on the western side of the Soar.
On 18th March 1644 the parliamentarians attacked the barricaded bridge. Two cannons opened fire and forced the royalists back across the Great Meadow into the town's north field and on into the town centre. The royalist foot soldiers now stood ground in the cultivated fields of Loughborough, facing the parliamentarians.
Prince Rupert and his army arrived at Ashby Castle during the evening of 18th March, reinforcing Lord Loughborough's royalist garrison. So the parliamentarians decided to withdraw, all chances of delaying the royalist forces now gone as royalist foot soldiers occupied Cotes Bridge. On the following day Prince Rupert and Lord Loughborough crossed the bridge and headed for Rempstone and on 20th March 1644 they encircled and attacked the parliamentarians at Newark and won a great victory.
The article was written by The Loughborough Library Local Studies Volunteers for 'The Battle of Cotes Bridge – The Civil War' exhibition staged in the Community showcase at Charnwood Museum in May 2017. With thanks to Professor Martyn Bennett for his amendments.