On this day in 1899: Barnum & Bailey's Circus visit Loughborough
26 October 2021
Barnum & Bailey's Greatest Show on Earth!
James A. Bailey, Proprietor
Reported in the Loughborough Echo on Thursday 2nd November 1899
Even on the busiest day of the November Fair, the streets of Loughborough have not been as thronged as they were on Thursday last (Thursday 26th October 1899) when the visit of Barnum & Bailey's Greatest Show brought crowds flocking into the town from the countryside around.
It was practically a holiday as very little business was done.
There were busy times at the new Great Central Station at Loughborough in the early hours of Thursday morning. The sidings had been cleared in readiness and the first of four trains arrived from Chesterfield about five o'clock. In the first train were canvas wagons, pole trucks and the horses. These were quickly hitched up and on their way through the town to The Racecourse, Derby Road. There were 106 wagons, 28 cages of wild animals, 800 people, 420 horses, 32 led animals such as zebras, llamas, buffaloes, 16 elephants and 16 camels.
The procession, from the Great Central Station to The Racecourse was planned to start at nine o'clock. The crowds had taken up positions along the route and some difficulties were experienced as the procession wound its way through the streets.
Heading the procession was a large band-carriage drawn by 40 horses, then followed the cages of wild beasts. There were troops of riders, male and female, 16 elephants, some enormous in size, followed by 16 camels. There were many more animals, floats and displays.
There was a menagerie of tents containing hippopotamus, rhinoceros, pachyderms and many more. The greatest attraction was Hassen Ali, the Egyptian giant who stood 7ft 11 inches*. The most bizarre was Rob Roy, the dislocationist – he could dislocate any joint in his body and put it back again at will.
The main tent was 595 feet long and 240 wide, seating 14,864 people.
Details taken from the Loughborough Echo, 2nd November 1899
Read an article about some of the effects Barnum and Bailey's circus had on the town here.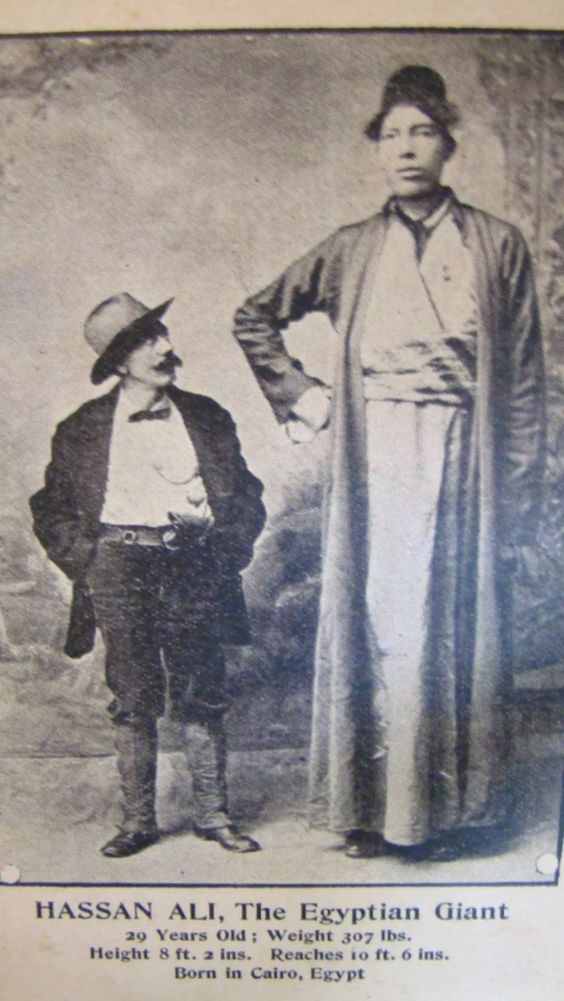 This article was written for the Victorian Loughborough Exhibition at Loughborough Library in 2019. It was put together by the Library's Local Studies Volunteers from information taken from an article published in the Loughborough Echo on Thursday 2nd November 1899.
*Info taken from the Loughborough Echo, though Hassan Ali's promotional postcard gives a taller measurement.