Brush at Brighton
6 November 2020
by Tony Jarram
This article is a precis of a study taken during the official centenary year of the Brush Electrical Engineering Company Ltd in 1979. This was followed by additional research by the writer to support the 1982 Centenary of the Brighton Electricity Scheme.
The Brighton Scheme
1982 marked an important centenary in the history of electric lighting in the UK. In 1882, a modest sixteen Brush-built arc lamps were switched on in Brighton, bringing a permanent supply system to the town and heralding the first municipal electric lighting scheme in the country.
Two trials had been carried out the previous year. The first involved the illumination of the promenade concert at the Royal Pavilion using a Siemens dynamo driven by a steam roller. The second trial – by Robert Hammond – was far more ambitious, using a 1.75 mile circuit carrying 16 arc lamps, in series, supplied with current from a Brush arc-lighting dynamo.
Arthur Wright, after a short employment at the Anglo American Brush Electric Light Corporation's Victoria Works in Lambeth, was placed in charge of the display. He was later employed as inspection electrician to the Hammond Company of Brighton.
Wright could not have had a better benchmark to emulate than Anglo American Brush Electric Lighting Corporation. The corporation was established in London to exploit the inventions of Charles Francis Brush of Cleveland Ohio, a pioneer of electric lighting. Brush's first successful project was in 1877, to illuminate the exterior of the residence of Dr Longworth of Cincinnati, followed by the introduction of 4-light sets with a generator. Several of these sets were installed in Wanamaker's store in Philadelphia. From these initial installations the fame of Brush grew and he was soon manufacturing arc lamps and dynamos to his own design for a number of prestige projects. These included public lighting systems for Madison and Union Squares in New York and a small system for Cleveland Ohio, his hometown.
Following the rapid progress of the Brush system in the United States, Mr Thomas J. Montgomery – representing Brush – came to England to negotiate with financial people in London to exploit the Brush Patents. Offices of a new company – Anglo American Electric Light Company Limited – were established at 74 Hatton Gardens E.C. Two patents were taken out in England, one for the construction and regulation of arc lamps and one for prolonging the carbons in arc lamps.
In 1880 the Anglo American Brush Electric Light Corporation Limited was formed to extend the operations of the 1879 Company. Its manufacturing unit was established in the former works of Messrs. Powis, Western and Company at the Victoria Works, Belvedere Road, Lambeth. In 1880 another manufacturing premises was acquired from the Woollen Cloth Printing Company in Borough Road. This factory specialised in the manufacture of dynamos.
The Brush system of Electric lighting expanded in the couple of years preceding the Brighton Scheme and it was during this period thar Arthur Wright would have learned his craft.
Systems introduced during this period included:
1880: Albion Mills, Halifax; Paddington Railway Station, Great Western Railway, London; Royal school of Mines, Jermyn Street, London; South Kensington Museum, London: Messrs. Denny Bros. of Dumbarton, shipbuilders (12 lamps); Messrs. Peak Frean and co. (32 lamps); The Barrow Shipbuilding. Company (65 lamps); Bass & Company, Burton-on-Trent (16 lamps); Great Eastern Railway (16 lamps); the City and Guilds Institute and a searchlight of 47,000 standard candle power for the Royal Navy;
1881: Thames Embankment (32 lamps); House of Commons (12 Brush lights and 34 Swan incandescent lights); New Bridge Street London; Ludgate Hill London and St Pauls Churchyard London.
It is important to note at this stage that the Victoria Works was operating as a power station in addition to being a manufactory of the Brush equipment. The Brush system also – and perhaps obviously – also illuminated its own works.
Returning to Arthur Wright and Hammond Company at Brighton, the electric lighting trials excited the residents of Brighton so much that it was decided to install a permanent system.
The power station was situated in the yard of Reed's Iron Foundry in Gloucester Road and customers were charged 12 shillings (60p) per lamp-week to have their premises illuminated.
By March 1882 demand had increased to 40 lamps and the method of charging customers was altered to 6 shillings (30p) per lamp-week plus 1s 6d (7.5p) per lamp carbon consumed. This was probably the first instance of a two-part tariff.
Later in 1882 the engineer in charge of the scheme, Arthur Wright, introduced incandescent lamps from the arc circuits. The system was controlled by a "Volt Boy" who operated a carbon resistance connected as a shunt across the field of the dynamo. The system was unreliable and slow, especially when the boy fell asleep. As a result of the power outages the boy was replaced by an automatic device.
Demand grew rapidly and in 1885 a new power station was built next to the old one and equipped with Brush Dynamos driven by a Fowler steam engine. The plant was further extended again using Brush dynamos. To date the dynamos, arc lamps and other electrical equipment would have been manufactured at the Victoria Works of the Anglo-American Brush Electric Light Corporation on Belvedere Road, Lambeth. It is highly likely that incandescent lamps would have been to the design of George Lane-Fox, who was employed by Brush at Port Pool Road, London.
In 1890 a new power station was erected in Brighton's North Road, this time using four Williams-Goolden generating sets and, by 1904, 15 dynamos made by Electric Construction Co. and Bruce Peebles. As demand increased, a new station was built in 1904 at Southwick alongside Shoreham Harbour . This station used coal obtained mainly from Tyneside and supplied by a fleet of colliers. The first cargo of coal was delivered by the 'James Tennant.' The new power station should have been ready to load on 1st September 1904 but did not operate until one year later – September 1905 – with the official opening not until 16th June 1906. Delays were due to a number of reasons, including flooding. The station was far from quiet and the noise in the turbine hall was described 'like that of an express train thundering through a tunnel.'
Brush were not involved in the turbines that were used over the following years. Mention must be made of the former Brush man, Arthur Wright, whose name was chosen by Brighton Corporation for the first of their two colliers in 1936. Its maiden voyage was to carry 1400 tons of 'Pelaw Main' coal to the power station.
Brush became involved in power generation again in Brighton when the power station became home to the now famous trio of Brush Ljungstrom radial flow turbines. The first was a 37,500 kW unit in 1937 (Brighton No.1), another of the same type in 1939 (Brighton No.5) and a 50,000 kW unit in 1947 (Brighton No.6). No. 6 was the largest Brush/Ljungstrom turbine ever built. All three were built in Loughborough at the Falcon Works of the Brush Electrical Engineering Co. Ltd.
It is interesting to note the Brush's commissioning engineer, Archie Fisher, stayed at Brighton working with the turbines he had installed.
When No. 6 turbine was commissioned in December 1947 the capacity of the power station was 190 MW.
The first pile for a new station was driven on 25th November 1947. This new station was to become Southwick "B", making the previous station, with the Brush turbines "A".
On the 13thAugust 1947 The Electricity Bill received Royal Assent (Electricity Act 1947), bringing the supply industry into public ownership. Two days later The British Electricity Authority (later renamed the Central Electricity Generating Board) was established with responsibility for the generation and transmission of electricity.
On the 1st April 1948 Southwick "A" and "B" stations passed from the ownership of Brighton Corporation to the new authority. Shortly afterwards Southwick "A" and "B" power stations became Brighton "A" and "B"
In March 1969 Brighton "A" was partially closed. Two of the Brush turbines – No.5 and No.6 – remained on standby, but on reduced capacity due to blade wear and tear.
Brighton "A" was officially closed on 15th March 1976 and is now demolished.
Brush also directly or indirectly supplied other equipment to Brighton.
Although Brush played no part in the building of the first public electric railway – the Volks Railway, two former electric pier cars of 1899 from the Southend Pier Railway were later added to the Volks cars to supplement the service. These cars were originally single deck trailer cars at Southend but were fitted with motors from redundant battery electric vehicles and operated as fleet No.8 and 9 along the Brighton seafront. No.8 carried the lettering "Falcon Works, Loughborough" on two of its axle boxes.
Brush was a prolific builder of tramcars and was the second largest manufacturer of this mode of transport in the UK and the biggest producer of trucks (wheel sets and frames). Brush supplied a batch of its tramcars to Brighton Corporation in 1903 (Fleet Nos. 31 to 40).
Tramcar production followed a long association with the manufacture of coachwork in Loughborough which dated back to c.1851. Production was initial horse drawn vehicles by Henry Hughes at his Falcon Works alongside the Loughborough Navigation. The company moved to a new factory alongside the Midland Railway, later becoming the Falcon Engine and Car Co. Ltd until amalgamation with the Anglo American Brush Electric Light Corporation in 1881 to become The Brush Electrical Engineering Co. Ltd.
Coachwork over these various ownerships included horse buses, railway rolling stock, horse drawn and electric tramcars, horse and motor buses, trolleybuses, motor cars and lorries and even aircraft.
Brush supplied motor buses to the Brighton based Southdown Bus Company between 1915 and 1929.
The first was a 32-seat bus on a Caledon chassis. Subsequent buses used chassis by Tilling Stevens, Daimler and Leyland. One of a 1929 batch of Leyland 'Titan' TD1 open top buses (No.813) was preserved by the company. Brush also supplied bodies unattached to their chassis for assembly by the operator.
Final mention should be made of Brush equipment for marine use . Easily overlooked are the electrical installations on vessels including the gravel dredger 'Arco Thames', a regular visitor to Shoreham at the time of the original project.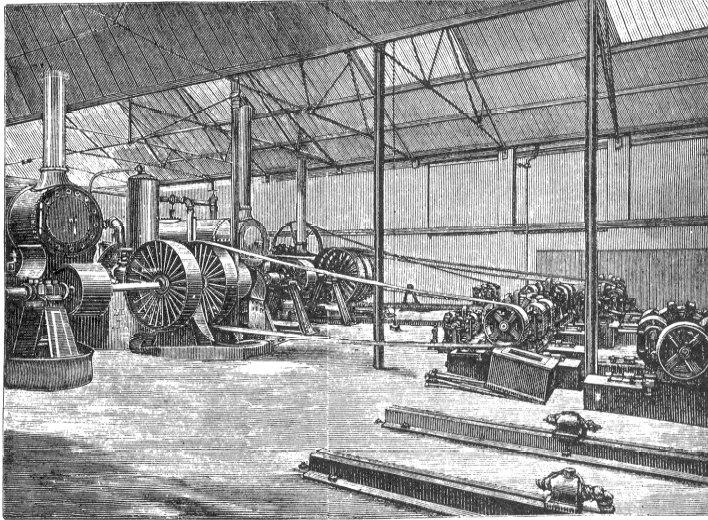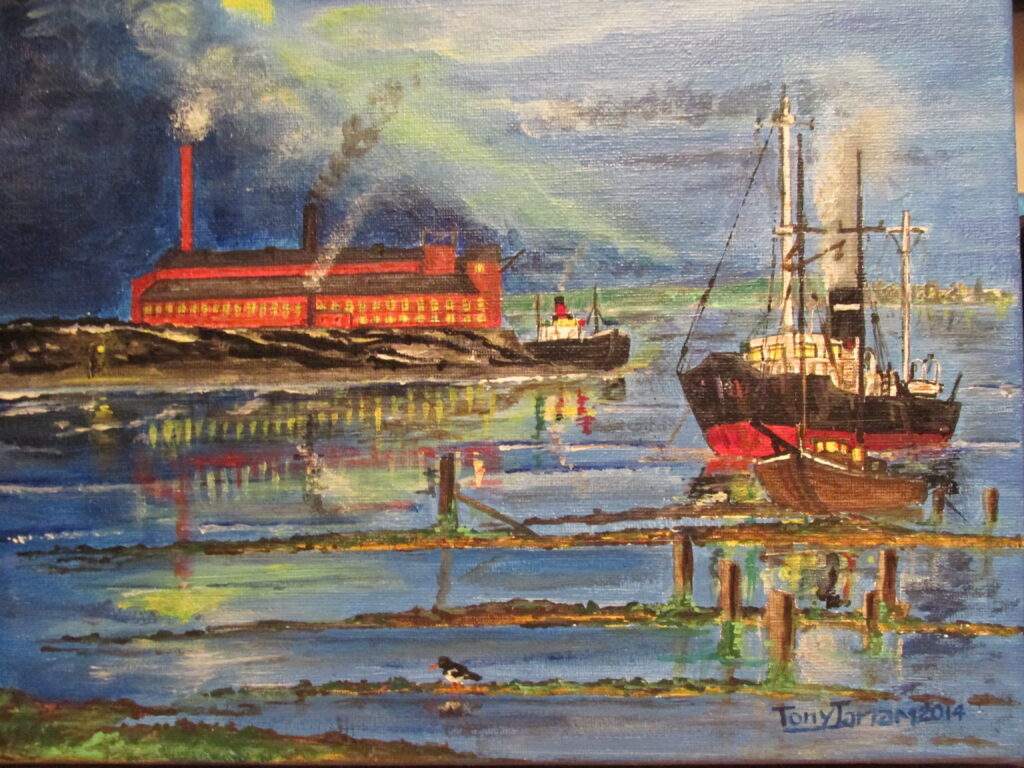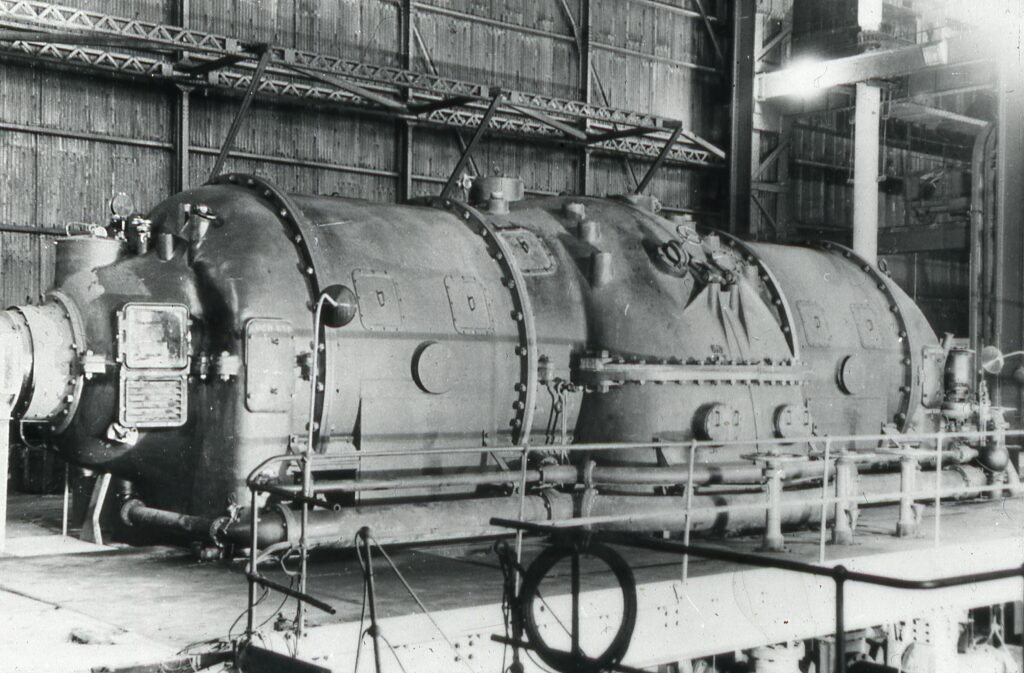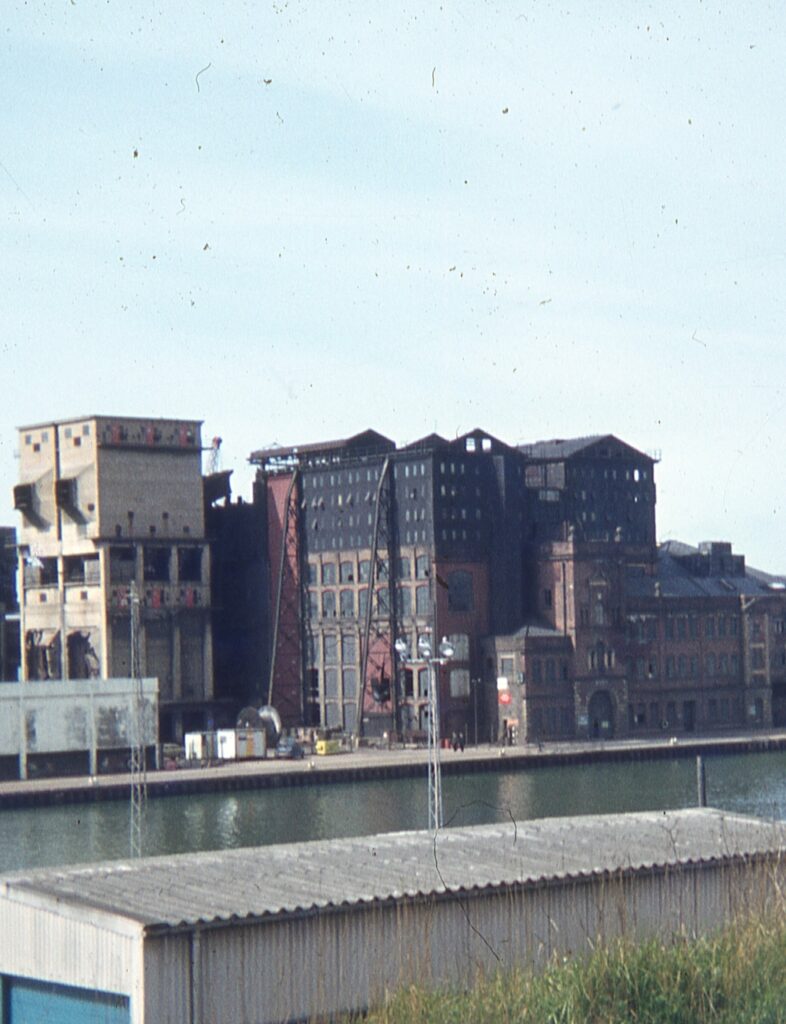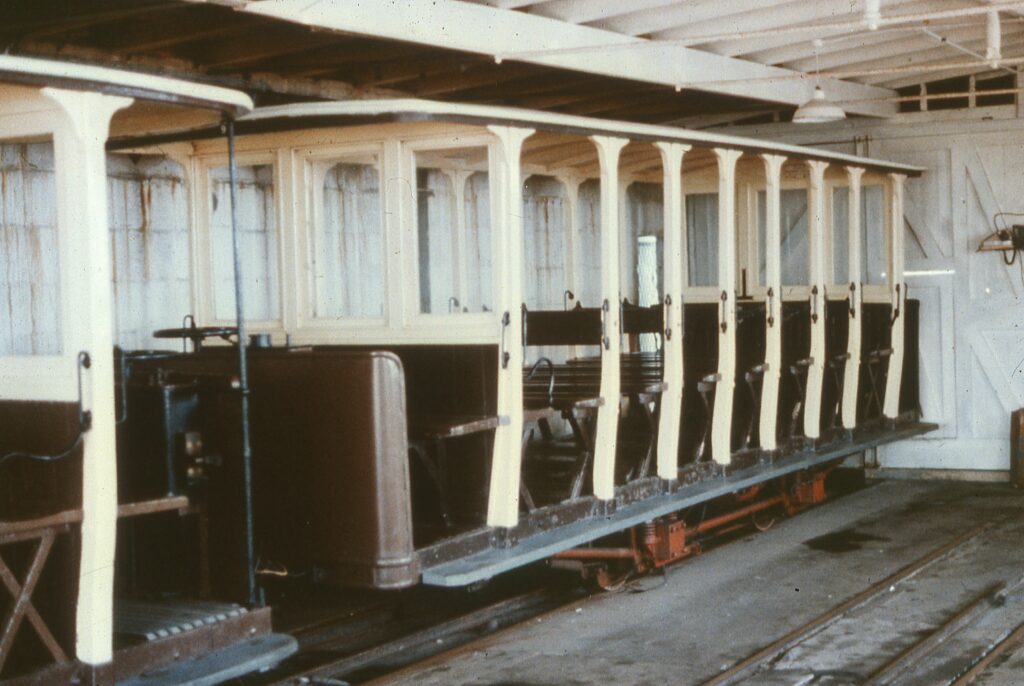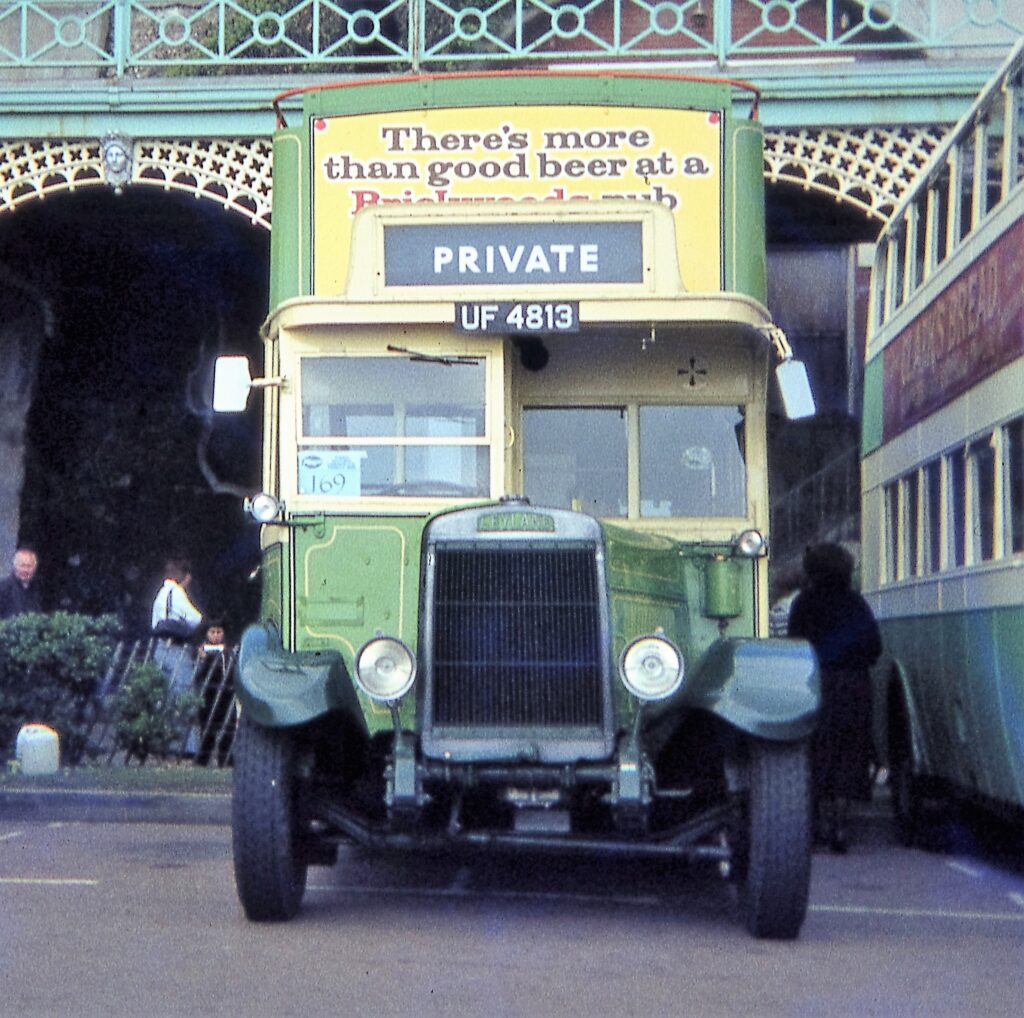 Bibliography:
CEGB: Brighton "A" Power Station 1904-1976 – Central Electricity Generating Board, South Eastern Division (1976)
Jarram A.P. Brush at Brighton, Brush Transport Enthusiasts Club (1979)
Acknowledgements:
Note: The status of the following relates to the time of the original project in 1979.
Ayling E.W. Ass. Station Manager C.E.G.B. Brighton Power Station, Barrell R.A. Shoreham Port Authority, Fisher A. Retired Turbine Erector, Hutt A. retired Brush employee, Jarram E.A. retired Brush turbine employee, Maskrey G.J. Station Manager C.E.G.B. Brighton Power Station, Morgan J. retired Brush employee, Read Norman Southdown Enthusiast's Club, Wright. M. Manager Volks Electric Railway.
Some of the kind people who helped with my original project are no longer with us. This article is dedicated to their memory.
Tony Jarram
Honorary Member of The Loughborough Local Studies Volunteers Group