Brush workers filmed in November 1900
20 November 2020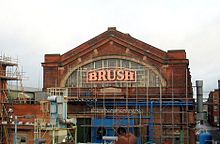 Old film negatives found in a basement in Blackburn proved to be a 'treasure trove of history' which included footage of workers leaving Brush Electric Company's Falcon works site in 1900.
The 'factory gate' film was made by Sagar Mitchell and James Kenyon, two of the earliest in the UK to take advantage of the commercial potential of 'moving pictures.'  Mitchell (who sold photographic equipment) and Kenyon (a manufacturer of penny-slot machines) set up a motion picture company in 1897, less than two years after the first audiences paid to watch films shown in Paris by the Lumière brothers.
Mitchell and Kenyon travelled the UK filming war dramas, rugby matches and other 'scenes of local interest' such as the factory gate films.  These were then sold to travelling exhibition companies, who screened them at markets and fairs. Loughborough's films were shown at the November fair in 1900.
The film company's commercial 'window of opportunity' was relatively short, with their known archive ending in 1911, though the company itself continued until 1915.
The two-minute clip of the Brush workforce leaving the Meadow Lane site was one of around 800 negatives found in 1994 in the company's former Blackburn premises.  The British Film Institute bought the archive in 2000, restoring and making many of them available to view for free on their website. The collection has now been listed on the Unesco 'UK Memory of the World' register created to support historical archives.
The BFI website describes the Brush film as 'a well-staged exit of workers'  which 'stands out for its composition, and for the relatively wealthy, well-dressed, well-behaved male crowd steadily snaking past the gate. Note also the profusion of bicycles.'  
A second clip, filmed at the same period, shows workers leaving the Cartwright & Warner hosiery works on Queen's Road.
Is it my imagination or do the youngsters in these 'crowds' pass by the camera only to double back again? Captivated by the new phenomena of 'moving pictures,' no doubt. How very astute of Messrs Mitchell and Kenyon, then, to film images that would draw the self same crowds to part with money to watch themselves at the November fair!
Alison Mott 
Sources:
Website of the National Fairground and Circus Archive [accessed 27.11.2020]
BBC News website.