Childhood trainspotting in Loughborough
8 June 2020
Tony Jarram takes us down Memory Lane with recollections of his passion for trainspotting.
In 1959 Rosebery School organised a train trip to London and I overheard a few of the boys getting rather exited about the trains they were likely to see on the journey.
I had been aware that a group of the lads had been exchanging notes about trains and each had a book with numbers underlined. I tried to find out more from one of the 'spotters', Mick Bancroft, who played football with me and my mates on the greens on Garendon and Alan Moss Roads. He said he was going on the London trip and invited me to sit with him and others who were interested in trains.
At last the big day arrived and we waited at Loughborough Midland station, with great excitement, for our train. I had bought a notebook but had not yet acquired the Ian Allan Combine Volume, the spotter's bible, that had the numbers and names plus details of every British Railways locomotive. There was also another publication known as the Locoshed book and this contained the allocation of each of the engines. Information was updated every month in the Trains Illustrated magazine.
The most sought-after engines were ones that were named, and the first engine that went in my notebook was a highly polished green one that appeared heading south with a freight train. 'Jube on the Derby freight,' someone shouted. It was obvious from day one I needed to learn a new language to follow this hobby.
Mick said that I was lucky to see a 'namer' for my first locomotive. 45616 MALTA G.C. duly went into the book, a former LMS 'Jubilee Class' engine. Hardly had this passed when, with a noisy clang, a signal dropped to at an angle below the Nottingham Road bridge. 'Peg on the Derby main,' someone shouted. It was explained that most signals lift upwards but this one – due to visual restrictions – drops down. The local spotters called signals 'pegs' and named them depending on the direction the train was arriving.
Loughborough had four tracks and I soon learned that south to London is 'Up' and north to Derby of Nottingham is 'Down'. So from Loughborough Midland station across to the Brush works the lines, in order, were as follows:
Platform 1 Down Fast ('Leggy Main')
Platform 2 Up Fast ('Derby Main'), and running behind the station,
Down Slow ('Leggy Freight'), and
Up Slow ('Derby Freight').
There was no Platform 3 in those days. 'Leggy' was spotter's slang for Leicester.
'Scot' someone shouted out and the spotters all seemed to act as though someone had just scored the winning goal at Wembley. Our train drew into the station hauled by an immaculate green locomotive, 46162 QUEEN'S WESTMINSTER RIFLEMAN, which I was told was a 'Royal Scot' class locomotive.
I was totally smitten – I was now a trainspotter. Other numbers went into the book, including two more Jubilees – RENOWN on Leicester engine shed and AGEMEMNON at London St Pancras. Someone with a Locoshed book said they were both rare Scottish engines.
We were lucky, in London, to see a Southern Region locomotive APPLEDORE, a West Country/Battle of Britain Class locomotive crossing the Thames out of Cannon Street station. This locomotive later became part of railway history as the last steam locomotive to haul the GOLDEN ARROW express.
On return to Loughborough I soon settled into the local spotting culture and would spend many a Saturday or school holiday at the point where the former Great Central line (to London Marylebone) crossed the former LMS Midland Main Line (to London St Pancras). Our spotting place is now the refuse collection station.
In those days it was non-stop entertainment and I was soon able to identify all the different classes of locomotives and their nicknames. Some of the nicknames were used only locally but others were universally common. Types seen at Loughborough included Scots, Brits, Jubes, Mickeys (Black 5s), Crabs, Duck Sixes, Brewers, Wheezers, Connies and Aussies.
Midland highlights were the 11.00 express from Manchester that was guaranteed a Britannia Pacific, the morning Carlisle to Leicester freight that had a Carlisle based engine or even a Scottish one, and the St. Pancras to Derby 'stopper' that often was hauled by a locomotive going to Derby Works for overhaul (or worse). I saw 46100 Royal Scot on this working and, also, the prototype LMS main line diesel 10000.
It often confuses non-enthusiasts that there was an engine called Royal Scot as well as an express called The Royal Scot (London Euston – Glasgow) that could be hauled by any engine. The Flying Scotsman is even more confusing again. It is an express train service (London King's Cross-Edinburgh) again that could muster any locomotive. Flying Scotsman was also the name of an individual locomotive, the first to officially record 100 mph, now happily preserved.
The former Great Central route also offered some gems, most notable an inter-regional summer-only service from Bournemouth to York. I can still see the highly polished V2 Green Arrow Class locomotive with a rake of Southern Region green coaches. The evenings also produced the spectacle of a highly polished Britannia from Immingham depot, hauling an express fish train from Grimsby for Billingsgate and the London fish markets.
All too soon we realised that our beloved steam locomotives were being replaced by diesel and electric ones.
My late father was employed by Brush and was working on diesel locomotives at this time on the Brush Type 2 (later known as Class 31). The result of British Railways modification plan was about to see many steam locomotives being sent to the scrap yards.
My father, was however, a staunch steam fan and would watch the trains during his lunchtime and sometimes photograph them. Family holidays always included a spotting day, and what days they were – at Southampton, Newton Abbot, Isle of Wight, Vale of Rheidol, Colwyn Bay and more. My dad also took me and my friends to Grantham and the Derby Locomotive Works open days.
My friends and I also organised our own days out including Nuneaton, Birmingham, Leicester, Derby, Nottingham, Sheffield and Derby. Organised railway excursions by various clubs took us to Crewe and Leeds. Spotting trips would include visits to railway depots and works. Mainly official with passes and some – known as 'bunking' – were via a hole in a fence, usually terminated by a hurried exit chased by the shed foreman.
Back at Loughborough, our spotter's lunch was purchased in Falcon Street during a lull in train services. Lunch was fish and chips (with batter bits) followed by a frozen jubbly.
I never really grew out of my love of trains and although there are many preserved railways to enjoy, nothing has ever replaced hearing 'peg on the Leggy Main', seeing a wisp of steam in the distance and the anticipation of seeing what locomotive was approaching.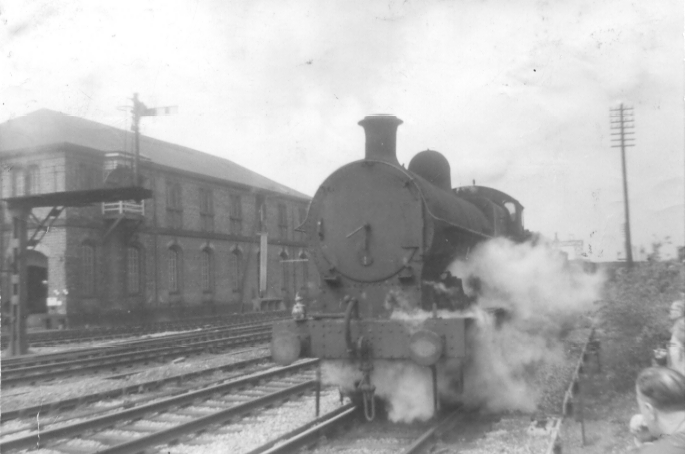 Tony Jarram
Honorary Member of The Loughborough Library Local Studies Volunteers Group
Read a memory of growing up with the GCR in Loughborough by Mike Jones.