Loughborough on VE-Day 1945
8 May 2020
On 8th May 1945, the good people of Loughborough joined with the rest of the country to celebrate Victory in Europe.
The town's mayor, Alfred Perkins, wrote a letter to the people of Loughborough which was printed in the Loughborough Echo of Friday May 11th, 1945.
Despite food (and clothing) being only available on ration, adults pooled their coupons in order to give the local children street parties to remember. And when the mayor visited some of these parties, he was heard to remark that providing entertainment for children was one of the best ways of celebrating victory.
Long trestle tables were erected along the residential streets, and flags, bunting and streamers were strung across roads from house to house. Some children dressed in fancy dress; some streets rocked to the sound of parades, and of dance bands playing; bonfires were lit; fireworks were set off, and many games played. All this to the background of children's laughter.
Of course, brothers, dads, uncles and even grandfathers were still away from home, serving in the war, and it is striking how photographs of the time reflect this. And, of course, young women who were part of the Land Army were likely also not to be around
Despite the joyful occasion, an air of solemnity was also observed when some streets sang the National Anthem, and observed a minute's silence, in honour of those who gave their life.
Local memories of those amazing events abound. People remember seeing lights in shops for the first time after the blackouts were lifted; others remember the evacuees who came to live in the relative safety of Loughborough; and many have memories of those exciting street parties!
Local man, Dennis Powdrill, who was a few days shy of age 15 at the time of Victory in Europe, remembers the events of the day very well:
'For me it was a time to savour. I lived in Bedford Street at that time, much different to what it is now. There were twenty-four families in the Street, each with a real sense of belonging to a community. After all we had just come through almost six years of war and had good reason to celebrate.'
'Bunting seemed to appear from nowhere and was hastily strung across the street from the upstairs windows. To be honest I think my Mother and some of our neighbours had been sewing triangular pieces of fabric onto lengths of tape in anticipation, when it was seen to be nearing the end of the war.'
'Street parties were hastily organised in the streets, quite often with tables being placed down the centre of the street, who cared? In Albert Street tables were set out with all the decorations and food that the women could muster. Cakes, sandwiches, and jelly seemed to appear from nowhere with lots of cups of tea and pop. A good time was certainly to be had by all.'
'At 3 o'clock a hush came over the streets as windows were opened, radios turned up and everyone sat to listen to Winston Churchill making a speech to the nation and what was then The British Empire. After the speech, the celebrations seemed to go on forever, before, if you were fortunate, a group photograph would be taken.'
'How they managed to conjure up all this delicious food I still cannot understand. Food was rationed and an example of this was part of the weekly ration per person:
1 oz of cheese
2 oz butter
2 oz tea
1 egg
4 oz bacon or ham
1 lb jar of jam – which had to last for 2 months!
1 lb. of soap was made available per person to wash, clean and wash clothes!'
'I do not why, but I did not go to a street party. I was enjoying myself in Bedford Square where everyone was singing and dancing. An effigy of Adolf Hitler was hauled up onto one of the tall ornamental lamp standards and quickly set on fire whilst the people cheered. Mr Peat who had a bakery and confectioners in Wards End seemed to be doing all the organising and it wasn't long before a bonfire was lit in the middle of the Square.'
'During this time, I remember having a walk down into the Market Place where the celebrations were in full swing with music, dancing and general merriment. At that time there was a number of pubs in the area in and around the town centre and I'm sure the rules must have been relaxed for that day by staying open.' [Licensing hours in London were certainly extended, so it's likely this applied across the country – LD].
Below is a photograph, kindly provided by Dennis, of families in the Albert Street area where he lived, at their VE-Day celebrations. These include the Hughes family of Victoria Street, and from Albert Street itself, the Prior, Barradell and Rose families. The photograph was taken from the playground of what was then the Emmanuel Church of England School.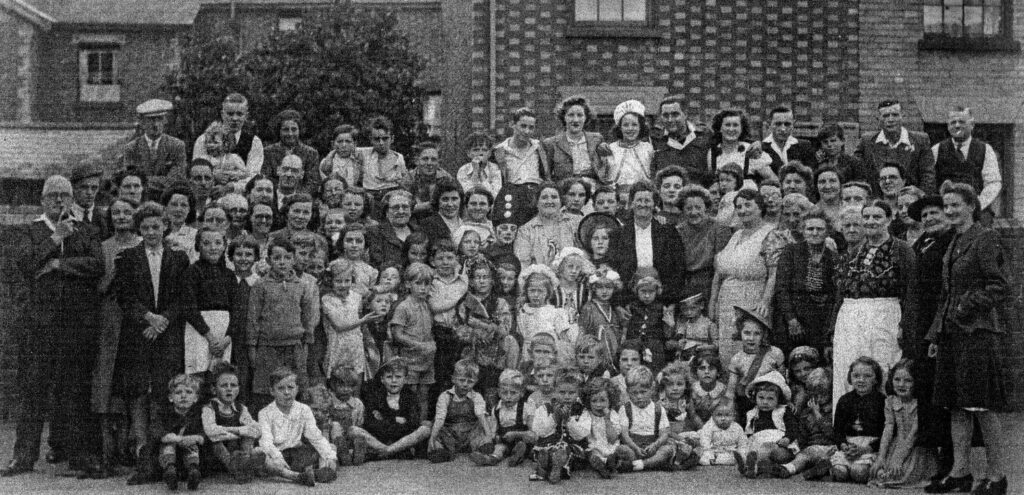 Today the school is known as the Victoria Day Centre, and is a community centre for the elderly and those with learning difference, as well as being a polling station for Southfields during elections.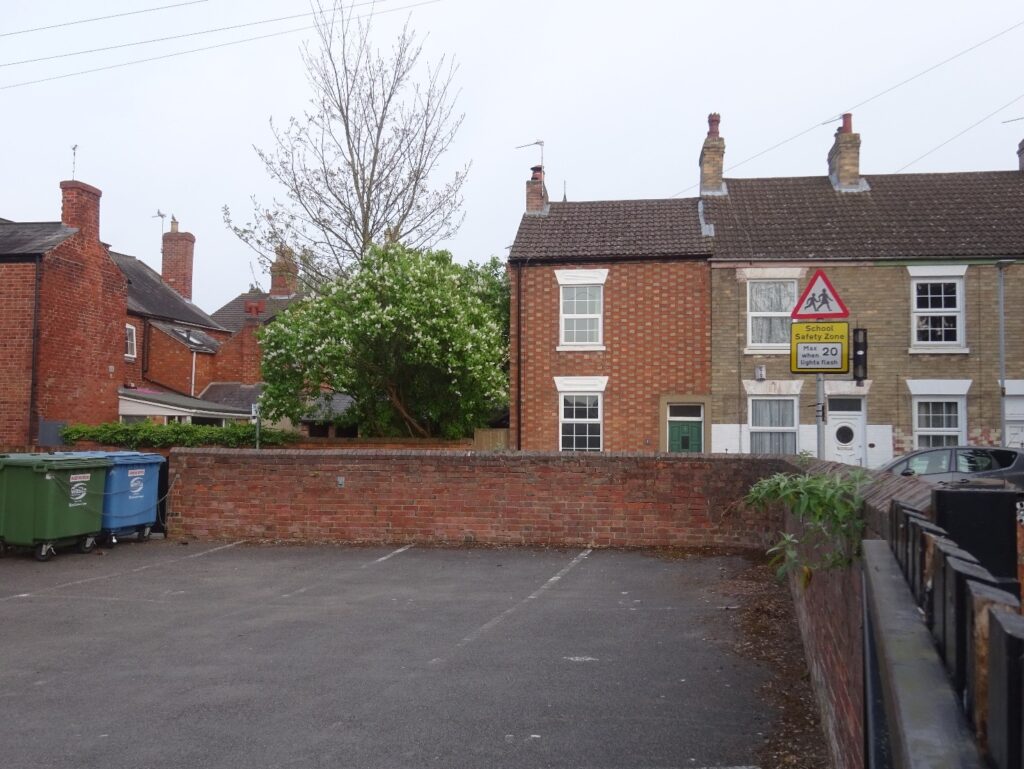 Compiled by Lynne Dyer
Lynne is the author of 'Secret Loughborough' and 'Loughborough in 50 Buildings.' She blogs about the history of the area at Lynne About Loughborough.