Nanpantan
5 June 2020
At the beginning of the 20th century Nanpantan, 300 ft above sea level and about two and a half miles west of Loughborough, consisted of Nanpantan Hall, a mission church, a day school and about 20 cottages.
The name is thought to derived from 'Pantain' from the Anglo-Saxon word meaning enclosure. Part of the map of Charnwood Forest dated 1754, shows the position of 'Nan's Pantain'.
The postcard below shows the old post office and shop – now the garage to the large house at the rear in the picture. The cottages next to the shop are owned by the Paget Estate. The road shown currently leads to Nanpantan Reservoir and beyond to the Outwoods.
The Parish boundary map of 1936 shows a vastly different Nanpantan compared with today. Some of the farms have disappeared to make way for housing. Burleigh Hall, which was fortified during the Civil War, was purchased by Loughborough College in 1949.
The Church of England mission church, St. Mary's in Charnwood, is a small building of local stone. The war memorial attached to it is unusual in that it is a single large block of natural Charnwood granite. Granite outcrops are a feature of the area, especially Beacon Hill on the periphery of Nanpantan,
Nearby is Whittle Hill, famous for its 'hone' stones. In 1949 the old quarry chimney from the boiler house was still standing behind the Whittle Hill farm. Other farms in the area include Holy Well Haw which existed as a hermitage before 1180 and was a 'hospitium' owned by Garendon Abbey for the benefit of wayfarers crossing the forest. Today the farm is known as Holywell Farm and still retains the gothic doorway. It sits surrounded by land owned by Loughborough University.
Moat Farm (mentioned in the Domesday Book) came under the hammer when the Beaumanor estate was sold in 1946. The moat, giving the farm its name, still exists. Beacon Lane which passes through the fields of Moat Farm, is thought to have been a track from the Roman camp that was situated on Beacon Hill.
Nowadays, Nanpantan is a far cry from the bustling village it once was. Intersected by a busy crossroads and dominated by The Priory pub and the nearby Longcliffe golf course, Nanpantan has been absorbed into the market town of Loughborough.
NB: The village information above is taken from The Leicestershire & Rutland Village Book, written by members of the Leicestershire & Rutland Federation of Women's Institutes and published by Countryside Books, 1989.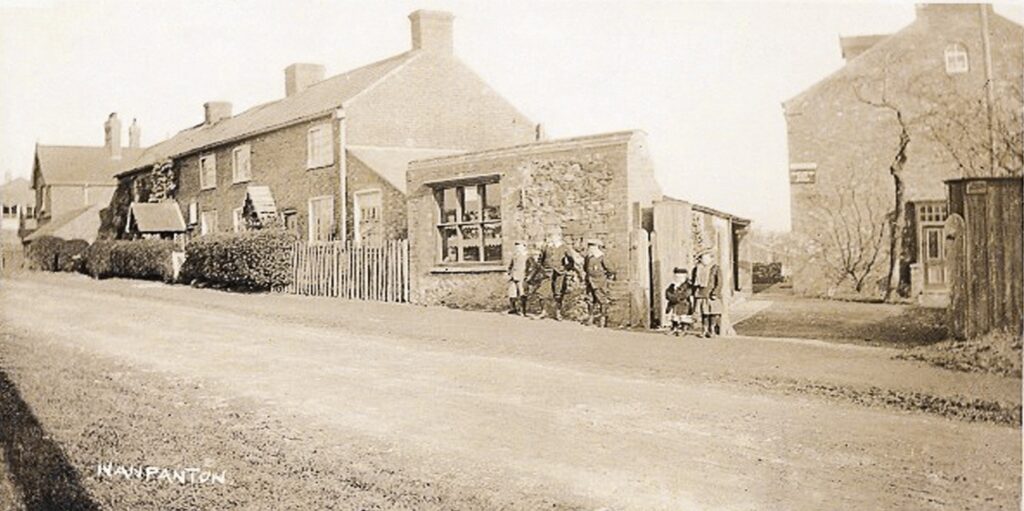 Loughborough Library Local Studies Volunteers