The Holly and the Ivy …
1 December 2020
Decorating homes with evergreens in mid-winter has been a part of life in Northern Europe for thousands of years, long before the arrival of Christianity.
The Druids, the Romans and the Vikings all took greenery into their homes during the darkest part of the winter – as a symbol of everlasting life and a part of religious festivals designed to persuade their gods to allow spring to return again.
With pre-industrialised life bound to the patterns of nature, and survival dependent on the seasons of the earth, evergreen plants were important at a time when all other vegetation was dead or dormant. Some, such as holly, was a useful foodstuff for livestock[1] over the largely barren winter period.
Early Christians took on the practice of using evergreen plants as decoration, including it in Christmas rituals and creating stories about the plants which resonated with their beliefs. To some, for instance, holly represents Jesus, with berries red as his blood and sharp leaves like the crown of thorns he wore at his death.
So they continued to decorate their dwellings with branches of holly, vines of ivy, fern fronds and wonderfully-scented rosemary sprigs and bay leaves.  With waxy greenery and colourful berries, these must have looked really striking against the drab walls and earthen colours of homes in pre-modern times.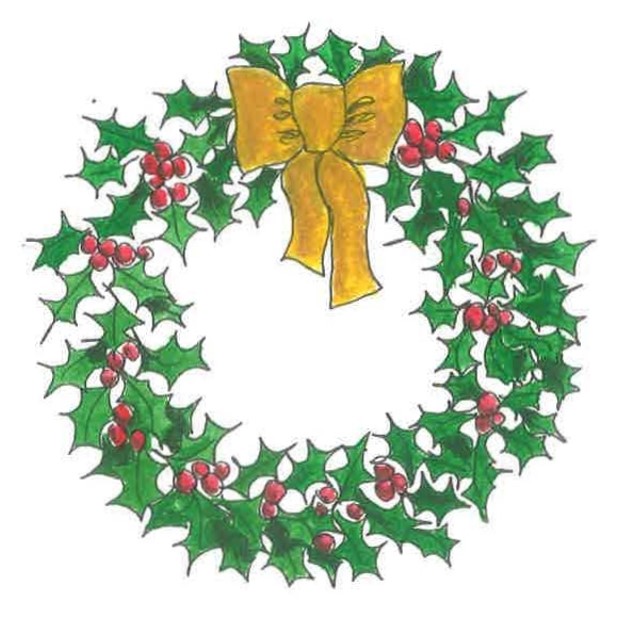 Watch a programme about how people prepared for Christmas back in the 17th century here.
---
[1] Did you know that holly leaves are only prickly on branches at ground level? They grow that way to deter animals from eating them and are much softer and rounder-edged above the height animals can reach. Until about a hundred years ago, stockmen would regularly cut down the high branches of holly to feed to livestock in winter. Sheep, apparently, are particularly fond of holly bark.