Andrew Carnegie and Loughborough's Carnegie Library
2 October 2020
Andrew Carnegie (1835–1919) was a Scottish-American industrialist and business magnate. He led the expansion of the American steel industry in the late 19th century and is often identified as having been one of the richest people in history.
During the last 18 years of his life, Carnegie gave away some $350 million (estimated as equivalent to $65 billion in 2019) to charities, foundations and universities, including Carnegie Hall in New York. This amounted to about 90% of his fortune.
Among his many charitable donations, he is known for funding the establishment of thousands of public – or free – libraries throughout the United States, Britain, Canada and other English-speaking countries of the world.
The world's first free Carnegie Library was opened in Dunfermline, Scotland – Carnegie's birthplace – in 1883. In 1899 he donated £50,000 towards the foundation of the University of Birmingham.
Loughborough's Carnegie Library
Loughborough Public Library was built in 1905 as a Carnegie-funded library. The building was then extended in the middle of the 20th century. The new extension was attached to the Carnegie library building which can still be seen today and is protected as a listed building, as is the former librarian's house which adjoins it to the rear in Packe Street.
The superb domed area in the original Carnegie building, with its magnificent stained-glass windows, today houses the children's library.
The Local and Family History Centre with an exhibition area, genealogy reading room and local history reference collection is also contained within the original footprint of the Carnegie library and is the home of Loughborough Library Local Studies Volunteers.
Article and research by Loughborough Library Local Studies Volunteers.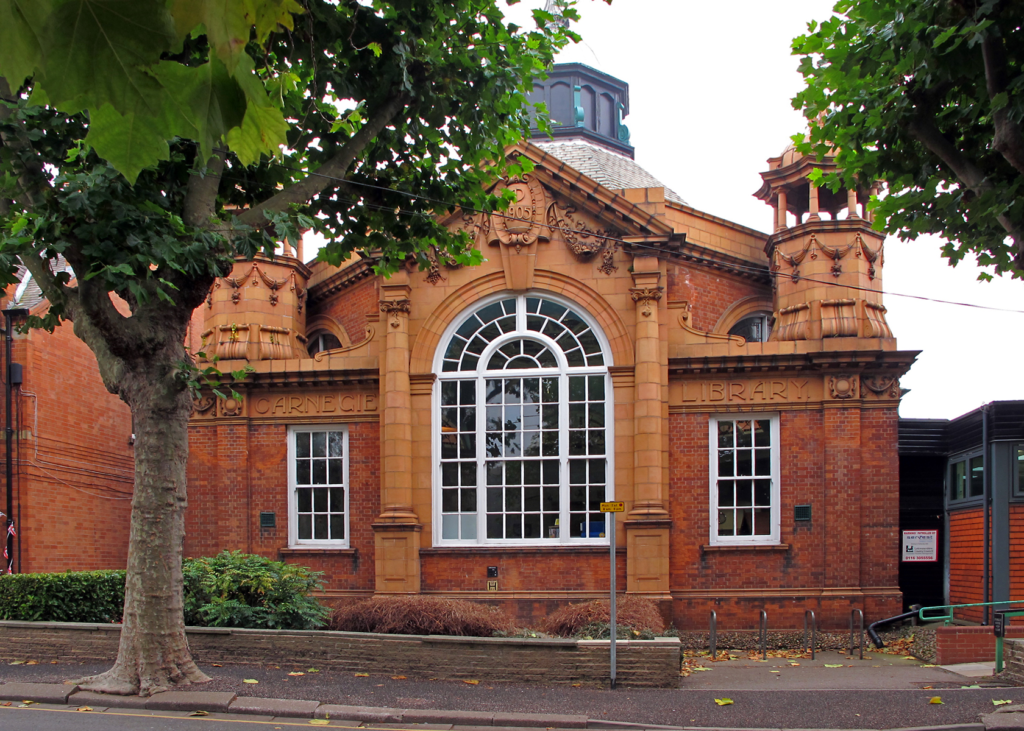 As well as financing the building of the Granby Street Library, in 1922 the Carnegie UK Trust was also responsible for funding the Leicestershire County Rural Library under a grant awarded to Loughborough College Principal Herbert Schofield. The Service operated from College premises in Frederick Street until relocating to New Street, Leicester, in 1935.
Email us to share your memories of Loughborough's Carnegie Library.